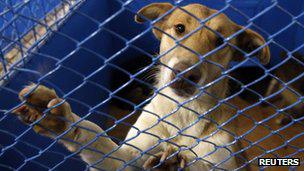 The number of stray dogs being picked up in Scotland has fallen by more than a fifth since last year, according to a survey.
The charity Dogs Trust commissioned the Stray Dog Survey which found the total number of stray dogs fell by 23% from 5,889 in 2011 to 4,524 in 2012.
On average 12 dogs a day are picked up in Scotland.
The charity said it believed the drop was due to better education, neutering and microchipping campaigns.
Scotland saw a greater fall than the UK average, which has seen a 6% drop over the past year to 118,932.
The organization said the Scottish figures were "impressive".
A Second Chance
Clarissa Baldwin, chief executive of the dog welfare charity, said: "This year's survey represents encouraging news for Scotland's dogs with a significant decline in the number picked up as strays.
"Dogs Trust works closely with local authorities and runs extensive education, neutering and microchipping campaigns to help them to tackle the issue – this is clearly paying off.
"Local authorities should be congratulated for all of their hard work."
Dogs Trust said around half of the dogs in its care were abandoned and left to fend for themselves.
The charity has appealed to members of the public to consider giving an unwanted stray a "second chance".
~Courtesy of BBC NEws
Tags: Decrease in strays, dog trust, Dogs in Scotland, second chance for dogs, Stray Dogs