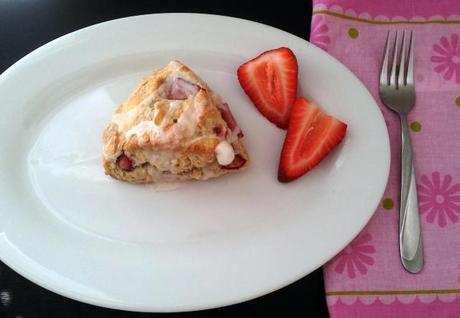 Last year around the holidays I was trying out different recipes for cookies and one came out a little thick but tasty. My sister says: its good, but I wouldn't call it a cookie; it's more like a scone. I said a stone?! I really thought she was picking on my baking skills trying to say it was hard as a stone. Well she corrected me and said, no a scone. What is a scone?
So now she had me on to something, I had to go on the search of what is a scone. I found out that a scone is a

small unsweetened or lightly sweetened biscuit like cake according to Google.
As with anything, once you hear about it you start to see it everywhere and I started to see scones on my favorite blogs, cookbooks, TV shows, EVERYWHERE. Not that they haven't always been there I guess I just never paid much attention to them. So they were instantly added to my "To Bake List".
This past weekend I decided to make scones and to use whatever flavors I already had in my fridge. I let my girls pick the flavor and they chose strawberry.
So Strawberry scones it was, I was happy with the results. Happy to finally know what a scone taste like. I plan to make more in the near future and try different flavors, I have already bookmarked 5 different ones. So be on the lookout for more scones.
J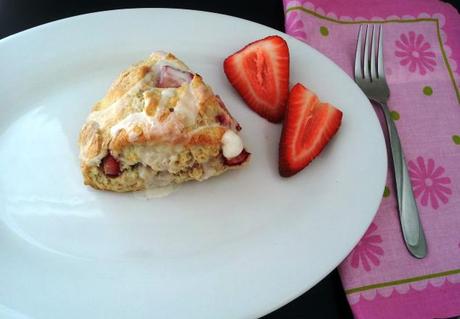 Ingredients:
2 cups all purpose flour
3 tablespoon sugar
2 teaspoon baking powder
¼ teaspoon salt
¼ teaspoon baking soda
4 tablespoon unsalted butter, cold and cut into cubes
1 cup chopped strawberries
1 cup sour cream
Icing:
2 tablespoon heavy cream
1 cup confectioner's sugar
Directions:
Preheat oven to 425 degrees F.
Line a cookie sheet with parchment paper.
Sift together the flour, sugar, baking powder, salt and baking soda in a large bowl.
With a pastry cutter, cut in butter until mixture resembles coarse crumbs. Add in the strawberries. Add in the sour cream and form the dough into a ball.
Place the dough on a floured surface and knead the dough for about 3-5 minutes. Press the dough into a circle and cut into triangles, squares, circles, whatever you prefer. Recipe says 8, my dough only made 6 nice size scones.
Place the scones on the lined cookie sheet and bake for 15 minutes or until golden. Remove from oven and transfer to a wire rack for cooling.

 
While scones are cooling, make the icing.
Whisk together the heavy cream and sugar, adding more cream if needed for the consistency of your liking. Drizzle the icing over the scones and enjoy!
J
Recipe adapted from:
Delicious! Delicious!