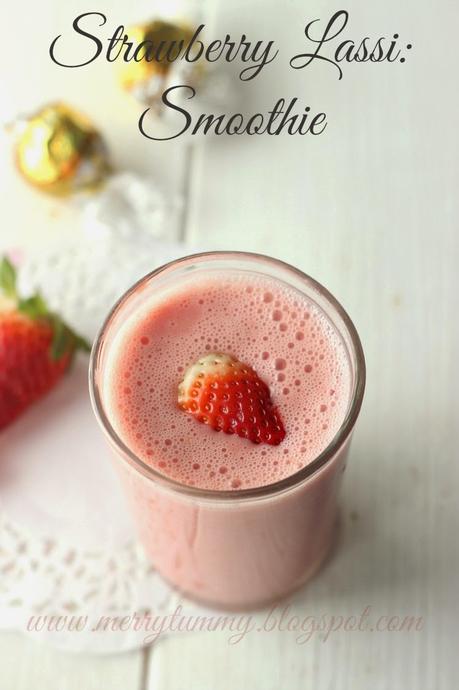 If a guest visiting you is a weight watcher, one who is too strict about calories and diet, what recipes you choose? I was in the same dilemma a week before, I had to make a complete meal for someone who prefers only healthy meals. I put in lot of thoughts and took a quick look at my blog's recipes. Below is what I decided for the menu.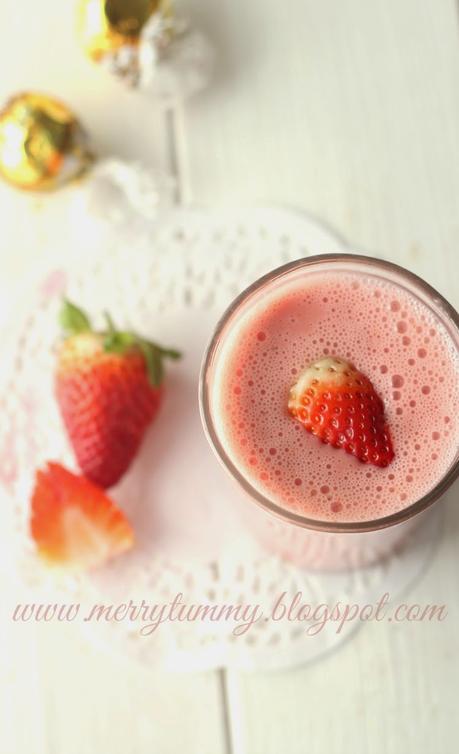 I know, you will say that lassi is not a dessert. Well, people in the UK love to have lassi as desserts. There are two reasons for that, one-yogurt is very rich in calcium and ascorbic acid which helps in digestion and so it being the last meal is good for your body. Second- lassi is sweet, so it suffices as dessert very well.
So what is lassi? In simple words it is a smoothie made with yogurt/curd (dahi) as a base, to it you can add in any fruit like mango, berries. Authentic lassi of Punjab isn't that simple and fat free, it is loaded with sugar and malai. Only after coming to the UK I tried  mango lassi for the first time, in India we get plain lassi-sweet or salty but never the ones with the fruits. 
Strawberry lassi is fruity berry twist to regular lassi and the baby pink color is to die for. Strawberry is sweet and juicy, where as yogurt is tangy and therefore these two ingredients when mixed together balances each other very well.
[More strawberry recipes- 
Strawberry chutney, no sugar strawberry icecream, strawberry fools, eggless chocolate strawberry cake
]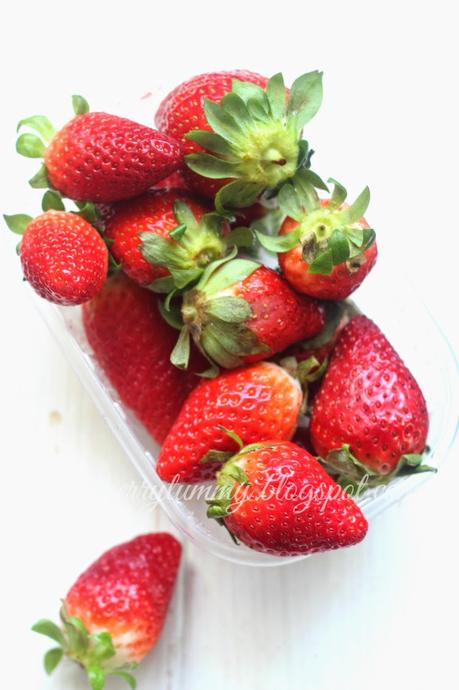 Lassi isn't good if its not chilled, I mean its a summer drink- it has to be cold, refreshing and revitalizing. I did not add extra sugar, so its even healthier. It is filling too, you can give it your kids as an evening snack, or have it as post-workout or gym snack. No matter what you will enjoy this lassi. Below is how to make Strawberry Lassi.
Ingredients:
Approximately 20 strawberries
3/4 cup yogurt/dahi
1/4 cup milk
1/2 teaspoon cardamom powder/elyachi
Method:
Wash strawberries and remove the stem/stalk. Keep it on the strainer and drain the excess water.
Mix yogurt and milk in the blender and blend till you see bubbles.
Add in strawberries and cardamom powder. Blend again till you see no big chunks of strawberries.
Pour in glasses and chill before you serve.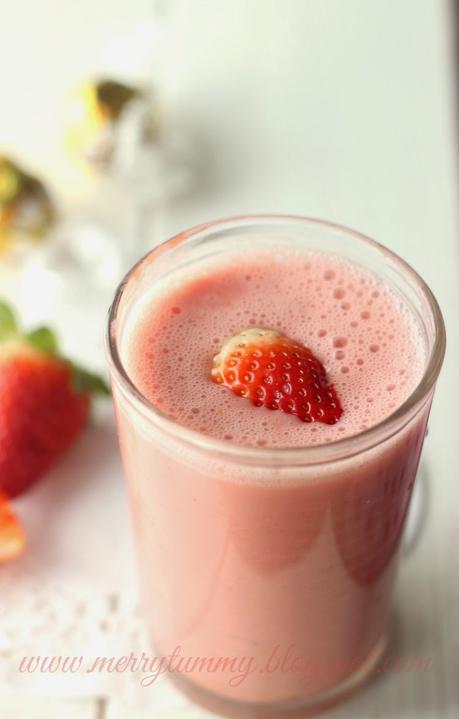 Notes:
If you like sweet lassi, feel free to add 1-2 tablespoons sugar.
I used more yogurt and less milk, but this ratio is completely depends on your choice. If you prefer creamy lassi, add more yogurt. For thinner lassi, add more milk. I used full fat yogurt and milk but feel free to use anything you want.
Chill it in the fridge for atleast 2-4 hours before you serve.
Serving suggestions:
It is a great pre or post workout drink. It is healthy and filling.
If you are late for work, then have this as a breakfast.
It is a great idea to serve it as side with any meals.
Pour into fancy wine glasses and serve in your parties or get-together.