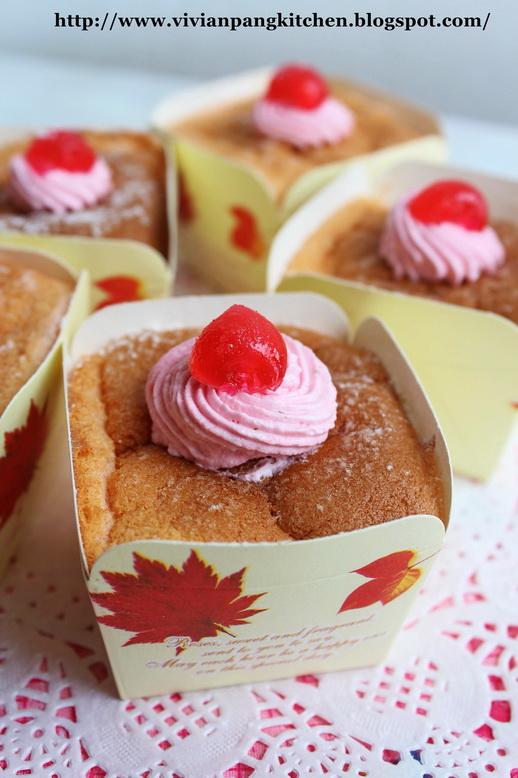 First of all I like to wish Happy Birthday to Bake-Along! It has been fun and great to bake along with baking 'kaki':D Thanks to Lena, Joyce andZoe and the other bakers for making this event get going. Here come my cupcakes to celebrate for the special day :)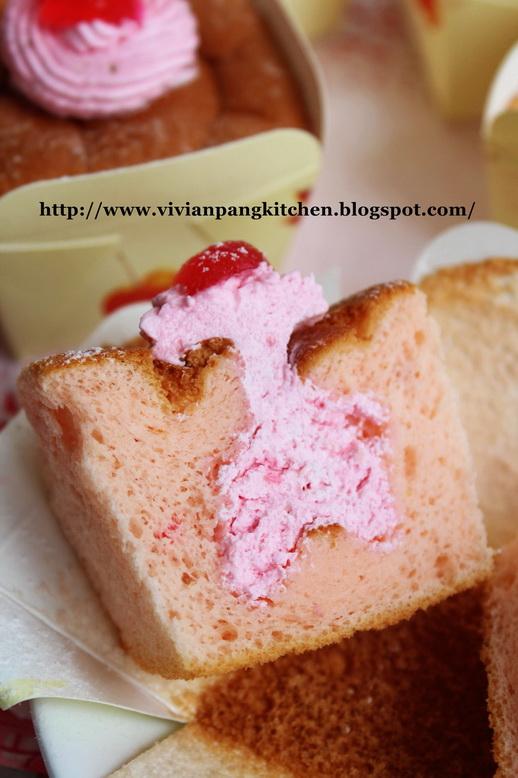 I choose Strawberry Hokkaido Cupcakes because I have some frozen strawberries and strawberry (red) piping jelly which I wanted to clear. This time I added some baking powder to minimize shrinkage. I also take extra step by turning my baked cupcakes upside down after removing from oven. I would say it helps.  
Recipe adapted with changes from Nasi Lemak Lover *Make 11 cupcakes Strawberry Hokkaido chiffon cupcakes 草莓北海道牛奶蛋糕
Ingredients:
~Chiffon cake (A)
4 egg yolks (use egg weight about 58g each)
20g sugar
35g corn oil
60g milk 25g strawberry (red) piping jelly (or fresh strawberry puree)
(B)
70g cake flour 15g rice flour ¼ teaspoon baking powder *sift and set aside
(C) 4 egg whites
30g sugar ¼ teaspoon white vinegar (or lemon juice)
Methods:
1. Whisk yolks and sugar till well combine. Add in oil, milk and piping jelly. Mix well.
2. Add in the sifted flour and whisk to combine.
3. In other bowl beat the whites till foamy. Add in ½ the sugar and vinegar. Continue beat till glossy. Add in the rest of castor sugar and beat till soft peak.
4. Spoon 1/3 of the whites into yolks batter. Fold to combine. Pour the yolk mixture into the remaining whites bowl. Fold till well combine.
5. Scoop batter into paper liners to slightly more than ¾ cup full. Bake in preheated oven 170C for about 20- 25 minutes (depending on the size).
6. When done, remove from the baking tray. Turn upside down and cool on wire rack. *the cake will shrink a bit after being removed from the oven.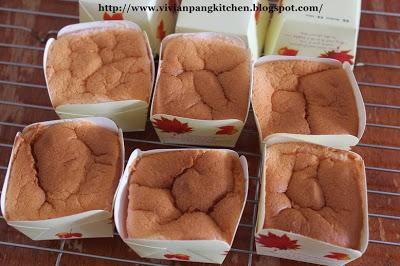 ~Strawberry Cream
100g dairy whipping cream
30g red piping jelly (or replace with sugar) 60g fresh strawberry puree
*The cream is more than I need. Next time shall reduce to 80g of whipping cream.
Some icing sugar, for dusting Some cherry for deco
Methods:
1. Beat whipping cream with sugar till firm and stiff.
2. Add in strawberry puree and fold till well mixed.
3. Pipe strawberry cream into cool cupcakes. Decorate with cherry and dust with icing sugar. Refrigerated before consume.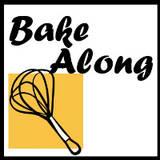 I am submitting my cupcakes to celebrate Bake-Along 2nd Anniversary hosted byLena, Joyce and Zoe