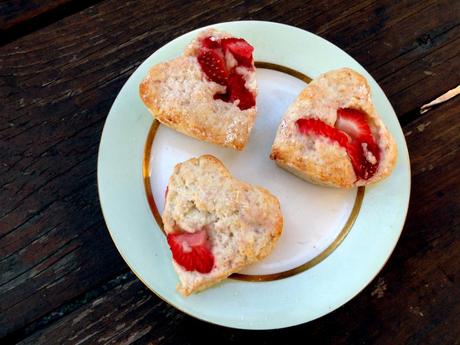 My grandparents were archivists. They took and kept hundreds of hours of video footage--back in the day when home video cameras were an anomaly.


Born in the 1930s and 40s, Lucy and Larry fell in love before they turned twenty.




And just a few months ago, they celebrated their 60th wedding anniversary.




After my family ( sister, mom, aunt, cousins, and of course, the star couple) ate cake, we watched them dance across the TV screen. We saw them laugh, we watched them hang lights for Christmas.

I saw my mother, only seven or eight years old, peek around a corner in her house, wearing a wide grin that I now recognize in my younger sister.


In one of the later clips, I enter into the recorded catalog.




My Grammy presides over her domain--the kitchen--as she gently instructs my 3-year-old self to carefully cut into a patted round of biscuit dough.




With focus,

I take the biscuit cutter and press the sharp metal into the dough, shaking my head from side-to-side until I pull a round disc up and place it on a baking sheet. My Grammy smiles, her voice is warm like a bowl of creamy soup, and I smile with satisfaction after the last one is laid to rest.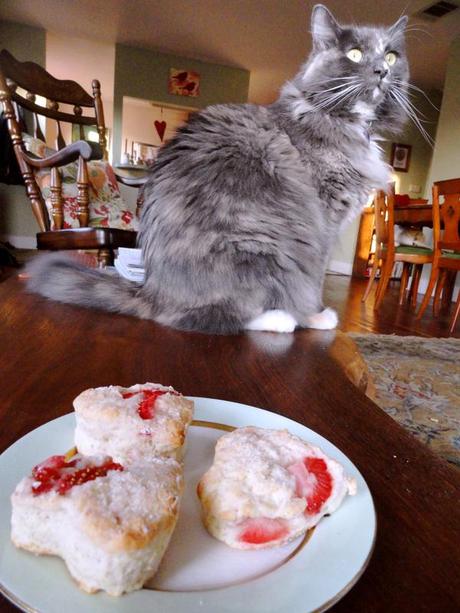 Most people either love or hate Valentine's Day.


I fall into the former category.




My mom and grandparents spoiled my sisters each February 14th.


We would wake to white baskets brimming with candies and other pink treats.
And then we'd feast on plates of strawberries, shortcake, and ice-cream.


We were the girls who brought homemade Valentine's to class.




And then, of course, I married my husband, who does a pretty good job of spoiling me too.




But this year, is a sad year. So many lives changed. So many routines altered.




I remember how much my brother-in-law, Mike, and my sister, Pam, loved each other. They met around the same age that my grandparent's did...their first year of high school. They were playful with each other--often ribbing, always laughing--and they were

each others closest friend.


On the same footage we watched at my grandparent's 60th anniversary, there was a clip of Pam at her bridal shower. Almost twenty years in the past, my sister (so painfully alive) pulled out glasses from a wrapped box as Susanne sat beside her, smiling and laughing. They looked at each other, and I saw the connection that makes sisters so much closer than friends. 




When we watched this footage the first time, I cried.




I know when I play it again, I'll cry too.




This would have been Mike's first Valentine's Day without Pam. He just couldn't do it. And I understand.




But how am I to celebrate Valentine's Day this year?

How am I to continue after all this?


By remembering them. By remembering the moments we shared, they shared. And by creating my own memories with the people still here, so many people that I deeply love.




These strawberry cream biscuits are made with a few simple ingredients. Flour, cream, fresh berries, a sprinkle of sugar, and salt. They are just slightly sweet, but with nearly 2 cups of cream, each biscuit melts in your mouth.




Thank you for all the words and messages of love and support.




They mean a lot to me (and my family).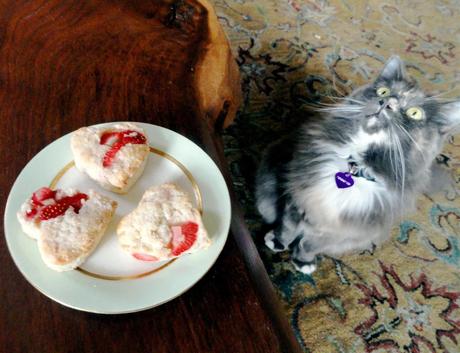 Strawberry Cream Biscuits


2 cups all-purpose flour, plus extra for the counter
2 tablespoons granulated sugar
2 teaspoons baking powder
1/2 teaspoon table salt
1 1/2 cups heavy cream


1/2 cup chopped strawberries


1. Place oven rack in the upper-middle position and preheat oven to 425º. Line a baking sheet with parchment paper.


2.

In a medium bowl, whisk together flour, sugar, baking powder and salt. Stir in 1 1/4 cups of cream with a wooden spoon until a dough forms, about 30 seconds. Add in the strawberries and stir, just slightly, with a wooden spoon.


3.

Turn the dough out onto a lightly floured counter, leaving behind any flour left in the bottom of the bowl. Use the remaining 1/4 cup of cream to moisten any flour left in the bowl and add to the dough. Gather into a ball and knead for about 30 seconds or until smooth.
4.Using your hands, shape the dough into a 3/4-inch thick circle. Using a 2 1/2-inch floured cutter (or a heart-shaped one!), cut the biscuits into rounds and place on prepared baking sheet. Reshape the dough once to cut additional biscuits. If desired, the baking sheet can be wrapped in plastic and refrigerated for up to 2 hours before baking. Bake biscuits until golden brown, about 15 minutes, making sure to rotate halfway through baking.


Always,




Monet


Anecdotes and Apple Cores