I HAD to bake today! It has been so long since I last baked.
This cake was put together with such a sense of urgency! Almost as if I didn't bake right then & there, something awful would happen! After a pretty harrowing past couple days, I knew where this was coming from. There's a whole lot of change going on in my life. I am pretty good with that usually, in fact I thrive on it. It suits my restless Gemini spirit just fine, adapting to  new experiences, new feelings… reworking things to make it all  fit & brand new. But sometimes change comes with a sense of losing control… of yourself, the situation. You tell yourself to be patient & ride with the tide, more often than not, it works. But there are days when my "Zen"-ness all but disappears… I so desperately needed some Kitchen Therapy!
I didn't bother with photographs or music & just got right down to it!
 I wanted to use Strawberries (they were heading to the trash-can in a couple days!) & Oranges (just bought a dozen yesterday). And of course it all had to be "almost" in sync* with my diet plan & diabetic-friendly since my mother-in-law is visiting.
I remembered reading a scrumptious  Apple Yogurt Tea Cake recipe on Sam's blog, Le Pirate & used that as the base reference for my cake. I didn't have macadamia oil, so I used olive; substituted the sugar with Sugar-Free tablets; used a combination of whole wheat flour & oat meal instead of plain flour, & added some crushed roasted peanuts I had leftover from yesterday & an orange-basil glaze just for fun!
For the Cake
1.5 cups Oat Meal

1 cup Whole Wheat Flour
3 tablespoons Crushed Roasted Peanuts
15 tablets Sugar Free / Sweet 'n' Low powdered / 1 cup Sugar
2 teaspoons Baking Powder
1 teaspoon Baking Soda
1 cup + 2 tablespoons Yogurt (beaten well)
1/4 cup Milk
1/3 cup + 1 teaspoon Olive Oil
3 Eggs
1 teaspoon Vanilla Extract
150-200 gm Strawberries (chopped)
Zest & Juice of 2 small Oranges
For the Glaze*
Juice of 2 Oranges

2 tablespoons Brown Sugar
A few leaves Basil (roughly chopped)
*The reason why this is "almost" in sync with my diet plan. You could avoid the glaze, but then again…
Method
Cake
Whisk together the oat meal, whole wheat flour, peanuts, Sugar Free tablets, orange zest & baking powder & soda,  & toss in the chopped Strawberries.

Beat the eggs well & add vanilla extract, yogurt, olive oil, orange juice & whisk well.
Add the liquid mixture to the dry one & combine it gently. Don't over-mix.
Adjust the consistency of the batter with milk.
Bake in a pre-heated oven at 180 C for about 30-40 minutes
Glaze
Heat the orange juice & brown sugar mixture with basil leaves on a low flame till the sugar melts & the consistency turns syrupy. Strain & keep aside till the cake is done. 

Use a skewer to poke some holes on the cake & pour the syrup over it while still hot.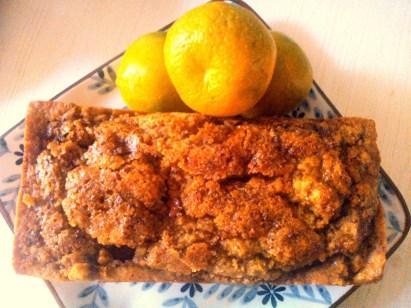 And Sam is so right… this cake hardly takes any time to put together & in spite of using oat meal & whole wheat flour, instead of refined, plain flour, the cake still turned out wonderfully moist, soft & oh, so delicious!
This recipe makes a 7 inch loaf… a perfect breakfast treat for a harrowed girl on a diet… guaranteed to make you feel better