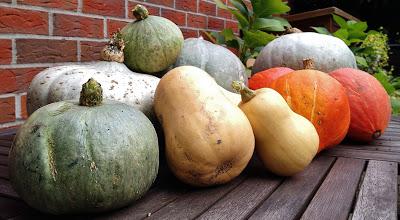 For the first time in ages today I spent a whole day down the plot, but boy will I be paying for that tomorrow!, as I strike the keyboard, I can already feel my arms and legs stiffening up with the anticipation of tomorrow morning drawing closer, when you get out of bed and think toyourself, "actually I don't feel too bad" then SMACK it hits you like a hot chilli as you try to stand up to walk to the bathroom!.
Anyway back to the action down the plot, I had help today in the form of my farther, he no longer works due to bad arthritis in his hands he can't do much heavy work because of them but he can help with all the other jobs plus it's nice to have someone to talk too whilst working.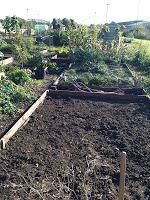 Today was clear up day; lots of beads had to have thelast of the crops harvesting and removing and some like the squashes need moving to a dry place to harden up and be cleaned ready to be stored overwinter.
I do love a squash, in particular crown prince, I use tocook with it a lot in many restaurant's I have worked in it great for stuffing ravioli with or roasting and makes a magnificent soup.
We also worked on the strawberries because they had basically taken over the plot with runners going everywhere I could have made 300 plants today with the amount of runners that had set roots in the freshly laid bark onthe paths this year. I did keep some ready to replace old ones for next year,after a good cull they looked a little "shaken up" but will settle back down in a week or two.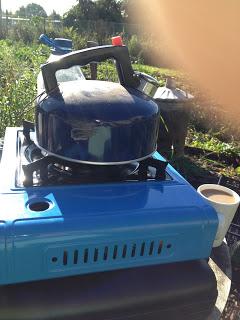 The main topic of conversation today was about Tea, and where the best place to have a cuppa is. I think that having a brew on your allotment is hard to beat, particularly if it starts torain and you take 5 in your shed and stick the kettle on. Sitting in the shed with the rain lashing down, with an old cup that the wife doesn't like you drinking from at home, so it makes its way to the allotment. There is something quite "British" about it but I love it.
I also chopped down all the sweetcorn today, this year I grew mini corn and normal sweetcorn, last year I had great success with them both but this year due to the fact I could get to the allotment more than once a week the baby corn all got to big before we couldget to it thus rendering it no good because it becomes very bitter and the core becomes inedible.
We did have some very tasty sweetcorn but we planted more baby corn than normal corn so next year it will just be normal sweetcorn all the way.
Enjoy your week folks andthanks for reading.
Don't forget to check out my Facebook page for more picturesand you can also follow me on [email protected]