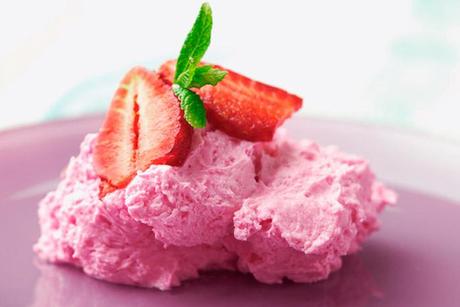 Ingredients:
50 gr icing sugar,
300 gr strawberries, and  an extra 10 to garnish,
150 ml double cream,
Fresh mint springs to garnish.
Preparation:
Wash the strawberries, set aside 10, hull the remaining and whizzed to a purée. Whip the cream and icing sugar together to soft-peak stage, about 4-5 minutes.
Fold the whipping cream into the strawberry puree gently until fully incorporated and allow to set in the refrigerator for 1-2 hours.
Just before serving, spoon into glasses or serve as you please. Garnish with fresh mint spring and the reaming strawberries. (NB refrigerate the cream before whipping it).
For 4 persons.
Style: Mediterranean.
Difficulty: Easy.
Preparation time: 15 minutes.
Chilling time: 60 minutes.