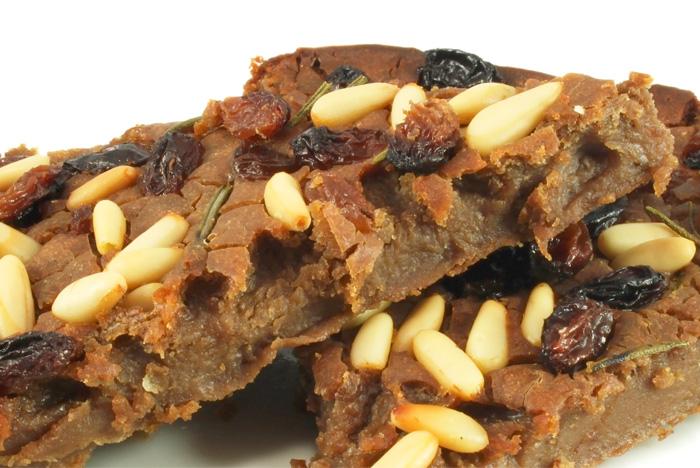 Ingredients:
500 gr of chestnut flour,
100 gr raisins,
50 gr walnuts,
50 gr pine-nuts,
Few rosemary needles,
1 tablespoon olive oil,
Pinch salt,
Water.
Preparation:
In a large bowl, using a wooden spoon, mix together the chestnut meal and enough water to form a smooth batter. Add the olive oil and a pinch of salt and stir well. Put aside approximately 1 tablespoon of pine-nuts, and raisins and incorporate the remaining to the batter, mixing well. The batter should be rather thick. Pour the batter in a well oiled (olive oil) baking pan and sprinkle the top with the remaining pine nuts, raisins and rosemary needles. Bake at 180°c for about one hour. The cake is done when a fine brown crackly crust forms on the top. Can be served warm or cooled.
For 4 persons.
Style: Mediterranean.
Difficulty: Easy.
Preparation time: 20 minutes.
Cooking time: 60 minutes.