1 Flares
1 Flares
×
New to little Indiana? Subscribe for free to my RSS feed. Thanks for stopping by!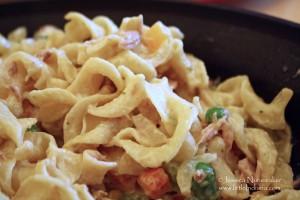 Stovetop Tuna Casserole Recipe
I love my usual Tuna Casserole recipe  but my oven is not playing very nicely lately. So? I needed a stovetop option!
This was really good. Really, really good! I don't know about you, but every so often I get crunchy noodles because I didn't use the right amount of noodles and they didn't get covered with enough sauce. Oops. But not any more!
It's so easy and fast, I am not sure why I didn't think of making tuna casserole on the stovetop before! This recipe comes from Food.com. Enjoy.
Stovetop Tuna Casserole
Print Stovetop Tuna Casserole
Prep Time: 8 minutes
Cook Time: 12 minutes
Total Time: 20 minutes
Yield: 4-6 Servings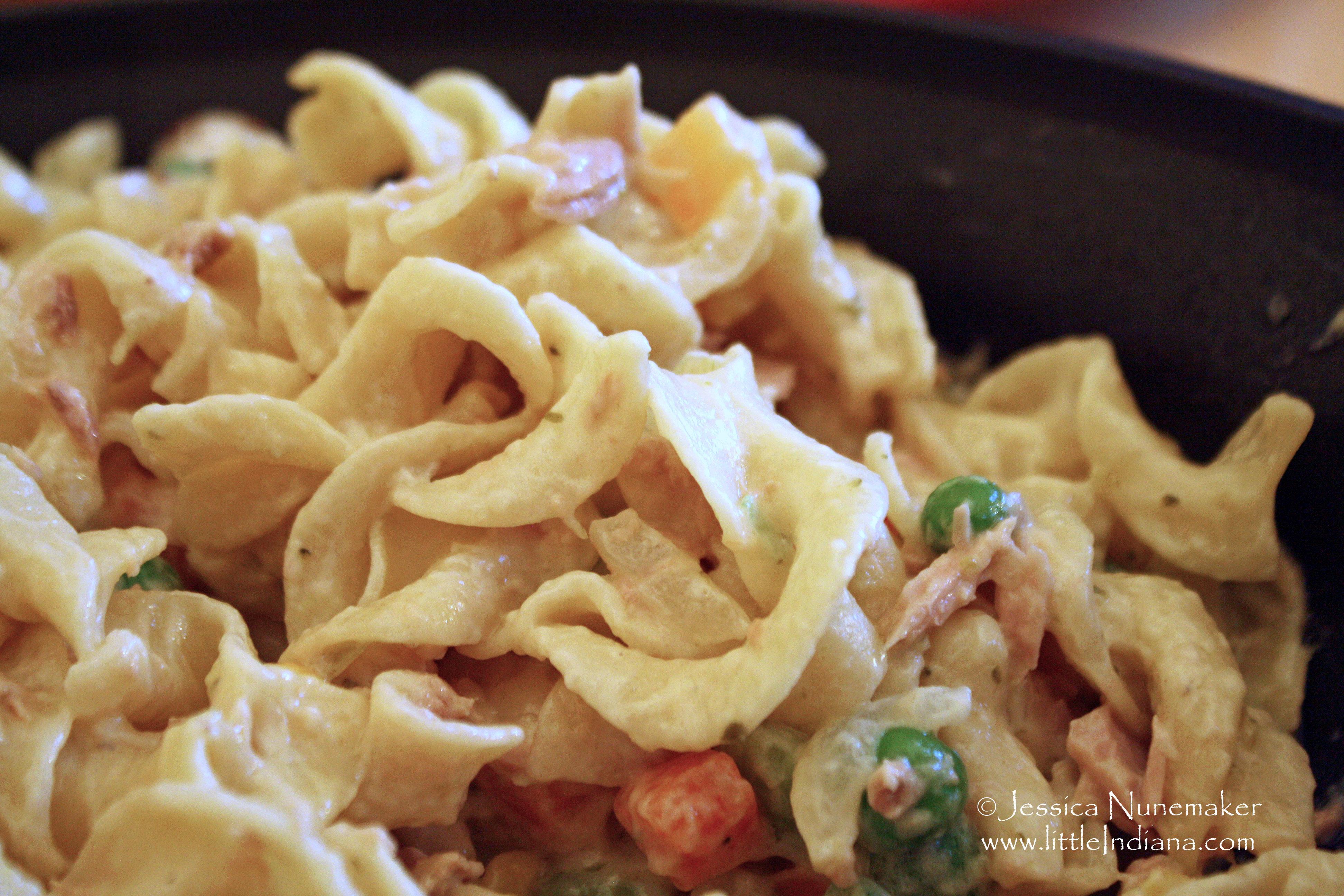 Ingredients
1 8 oz. uncooked Rotini or Fusili pasta (I used Egg Noodles)
2 Cups Frozen Mixed Vegetables
1 Tablespoon Butter
1 Cup Onions, Diced
1 teaspoon Garlic, minced
1 can Condensed Cream-of Soup in your Favorite Flavor (I used Broccoli)
3/4 Cup Shredded Sharp Cheddar Cheese
1/4 Sour Cream
1/4 Cup Grated Parmesan Cheese (I forgot to add this one)
1/2 teaspoon Dry Mustard Powder
Salt and Pepper to Taste
2 Cans Tuna, Drained and Chunked
Instructions
Cook pasta, adding frozen veggies to the pasta for the last five minutes of cooking time. Drain.
Meanwhile, prepare sauce: melt butter over medium heat in large pan.
Add Onions and Garlic, cook until tender, roughly five minutes.
Add Soup, Shredded Cheddar Cheese, Sour Cream, Dill/Basil, Mustard Powder, and Black Pepper.
Combine. Cook until sauce is heated and Cheese has melted.
Stir in remaining ingredients. I heated a bit longer.
Serve.
Notes
From Food.com
Schema/Recipe SEO Data Markup by
ZipList Recipe Plugin
2.0http://littleindiana.com/2012/11/stovetop-tuna-casserole/Photos are the Property of little Indiana. Do Not Use Without Permission.
pictures in Indiana
little Indiana Tumblr blog
Just don't forget to tell 'em that  little Indiana sent you!
Don't miss a moment. Subscribe to little Indiana and receive instant updates to stay on top of everything "little."
little Indiana: Where to Stay, Play, and Eat in Small Towns in Indiana. Discovering Indiana's best small towns! Now get little Indiana on your Kindle.
Targeted. Relevant. Affordable! little Indiana advertising.