1 Flares
1 Flares
×
New to little Indiana? Subscribe for free to my RSS feed. Thanks for stopping by!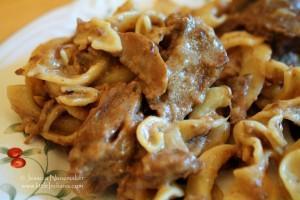 Stovetop Beef Stroganoff Recipe
There's one good thing about cool (if not downright cold weather)–the return of comfort food like this Stovetop Beef Stroganoff recipe!
It comes from one of my favorite cookbooks of all time: Into our Second Century, the School Sisters of St. Francis. It is dated Fall of 1988 and was  a find at an Indiana antique shop many years ago.
Simple to prepare, it smells so amazing while it is cooking. I use this Stroganoff Recipe as a general guide and I do omit the Tabasco. I hope you love it as much as we do!
Stovetop Beef Stroganoff Recipe
Print Stovetop Beef Stroganoff Recipe
Rating: 51
Prep Time: 15 minutes
Cook Time: 2 hours, 30 minutes
Total Time: 2 hours, 45 minutes
Delicious! A family fave with all of us.
From "Into our Second Century" by the School Sisters of St. Francis in Milwaukee, Wisconsin, Fall of 1988.
Ingredients
1 - 2 lbs. Round Steak
2 Tablespoons Flour
1/2 Cup Onions
Garlic
1 Can Mushrooms, with juice
1 Tablespoon Worcestershire Sauce
Tabasco (optional)
1 Cup Sour Cream
Wine
1 Envelope Dry Soup Mix
Instructions
Cut Meat into strips and dredge in Flour.
Brown Meat, Onions, and Garlic in 2 Tablespoons "Fat."
Add 1/3 Cup Water and 1/3 Cup Wine.
Also add Mushrooms with Liquid.
Stir in Soup Mix, Worcestershire Sauce, and Tabasco (if using).
Cover and simmer until tender, about two hours.
Blend Sour Cream into mixture about 1/2 hour before serving.
Serve over Noodles.
Schema/Recipe SEO Data Markup by ZipList Recipe Plugin2.0
http://littleindiana.com/2012/11/stovetop-beef-stroganoff-recipe/
Photos are the Property of little Indiana. Do Not Use Without Permission.
Find pictures in Indiana on my Flickr photostream or on the new little Indiana Tumblr blog.
Just don't forget to tell 'em that  little Indiana sent you!
Don't miss a moment. Subscribe to little Indiana and receive instant updates to stay on top of everything "little."
little Indiana: Where to Stay, Play, and Eat in Small Towns in Indiana. Discovering Indiana's best small towns! Now get little Indiana on your Kindle.
Targeted. Relevant. Affordable! little Indiana advertising.