This is the weekend edition of TheMarioBlog and will be updated as needed. The next blog post is Monday, June 16.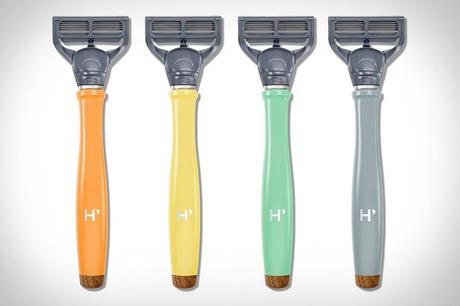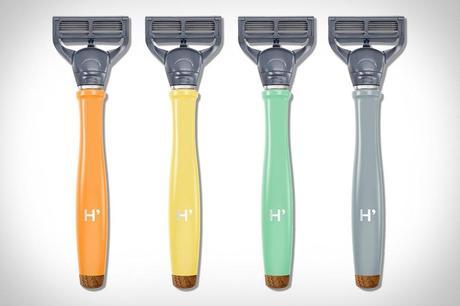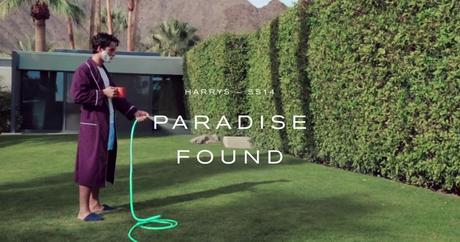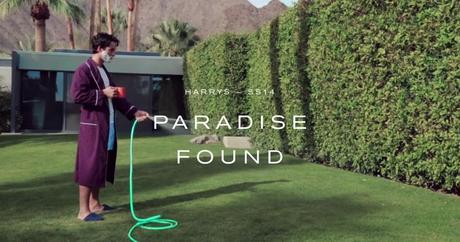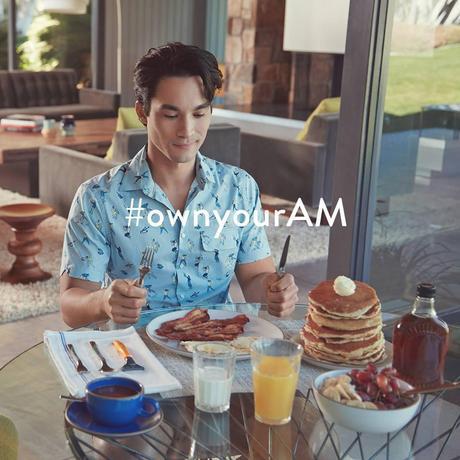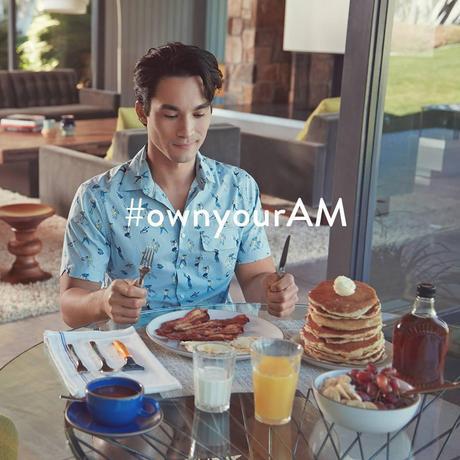 There is always a story behind the man who shaves with those colorful Harrys' razors. Stories usually center around morning activities, and the Harrys razor is never too far away
Selling via a story seems to be more chic today than through the hard sell. That is why our traditional notions of advertising, marketing and promotion are shaken up to the root.
Not that this is new: a good story has always seduced us to read an article, to tune in to a TV show, to buy something, to engage in an activity.
In today's digital world, however, the story is the protagonist.
Creative directors everywhere know that and capitalize on it.
New products coming in the market would not dream of selling themselves via an old fashioned hard sell ad.
Instead, they go for the story, for weaving a tale, with characters and plot, that will convince us we should consume a certain product--and right now.
Such is the case for Harry's, a web-based startup which has branded itself as a simple, superior and more affordable solution for shaving — and is vying against competitors like Gillette and Schick for a $2.4 billion market in the process.
Default confession: While I am a die-hard and loyal Gillette Fusion shaver type of guy, I succumbed to the Harry story, via Twitter, and got me a Harry shaver.
And, so, having succeeded with their own storytelling to sell Harry's shavers and accessories, the company's Design Director Garrett Morin and Director of Digital Products Matthew Tully, shared their secrets at a recent gathering.
Tips for stories that sell
1. There must be a plotline, which is nothing new. In their story, they tell how "Co-founder Andy Katz-Mayfield went to pick up a razor at his local pharmacy and found himself shelling out too much for an uninspiring product and only a few extra blades. When he told his friend Jeff, they decided there had to be a better way to infuse shaving with an affordable, personable, and creative touch".

2. Sell an experience."We want to give our customers all the tools and information they need to go on and talk about Harry's in their own voice," says Tully.
3. Create a mood, with ambience. When the company debuted a line of limited edition razor handles, Tully and Morin ventured to upstate New York to film a vignette of a man spending a weekend alone on a lake. "We wanted to capture the moment to describe how the product makes you feel." 
4. Create events and moments. "Last year, Harry's launched National Shave Day on December 1 to much fanfare — riding on the coattails of another cultural facial hair phenomena: Movember. In doing so, they appealed their target market, and not only appeared timely, but prescient. After not shaving all month, men everywhere were in desperate need of a good razor."
5. Engage with the audience. I personally discovered Harry's via Twitter. Their shaver stood out, with its orange color, in the midst of a sea of messages.
6. Plan that campaign that puts the product, the mood and the experience into one seductive experience. Paradise Found. It's an image of a fairly normal looking guy, shaving cream on his cheeks, coffee cup in one hand, watering his lawn with a bungalow and Palm Springs' signature mountains rising in the background. "It's the picture of a weekend. A guy. He doesn't have a super model girlfriend. He doesn't want a diamond-plated bathroom. He just wants a good shave," says Morin. 
7. Don't over do the story. "...make sure your content doesn't get in the way of your higher objective: making sales," Tully emphasizes.
By the way, every time I look at my Harry shaver, I also wonder what that quote mark next to the H' stands for, sort of a whisker that did not wash away?
That, too, could be the story.
Storytelling a la Twitter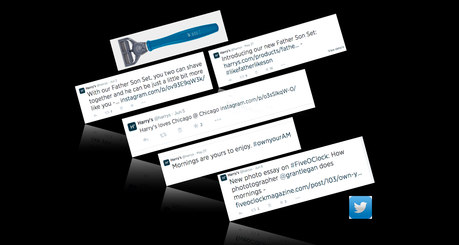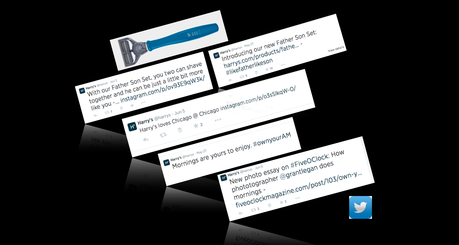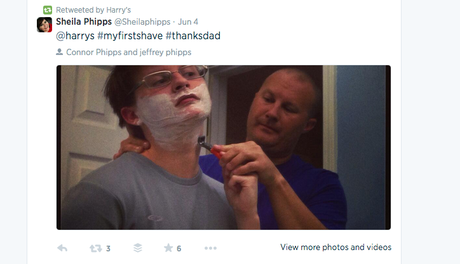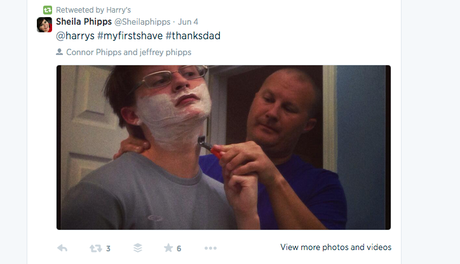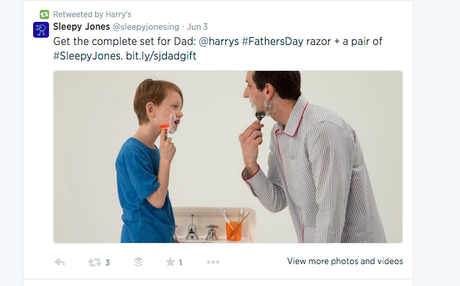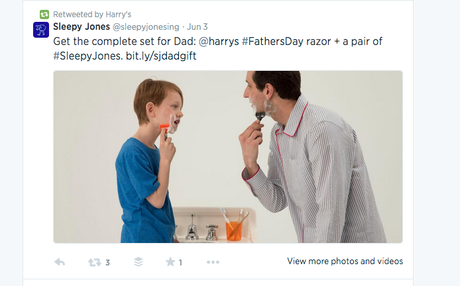 Harry's has 12.6K Twitter followers. Here are some recent Harry's tweets, emphasizing amazing morning experiences (which include shaving, of course), or the more sentimental rite of passage related to shaving: when your dad first teaches you how to shave.  Harry's explores it all with gusto via Twitter.
How about Gillette?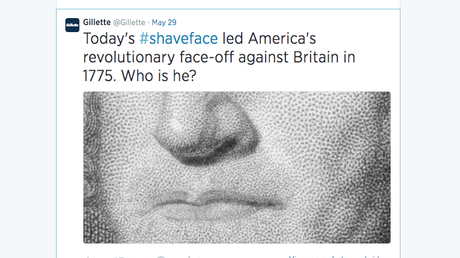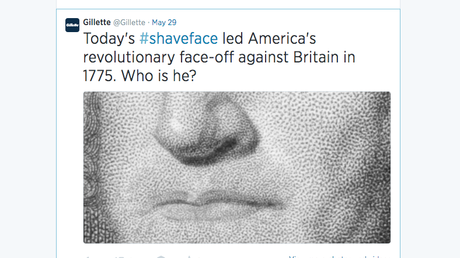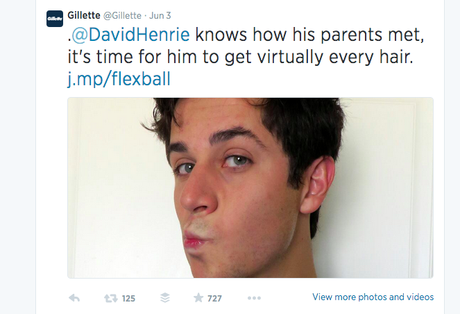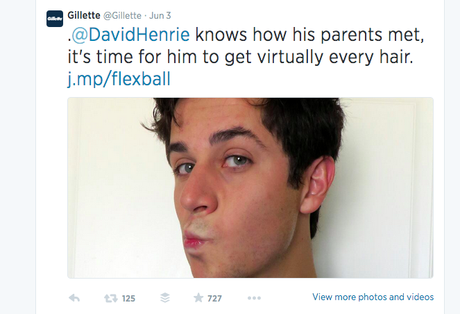 You would not expect big rival Gillette from sitting around while new kid on the block Harry's has all the fun with storytelling.
After all, the Gillette Safety Razor Company dates to 1901, King C. Gillette launched his company on a new business model. He began to sell razors along with disposable razor steel blades. Eventually Gillette cut a deal with the US Government, so that every soldier was issued a Gillette razors and blades.
In the early days, however, the advertising was direct, with slogans such as "Look Sharp! Feel Sharp! Be Sharp!" . While there was not much of storytelling in the early Gillette history, by the 1960s there was some notion of what Gillette considered to be a man's man. According to GQ, this ideal man for Gillete was "a patriot, a sportsman, and, above all, clean-shaven."
While Gillete's presence in Twitter (@Gillette) is robust, I found that there is more of a direct sales approach, such as 
Our best shaving technology, delivered right to your door for about $1 a week. http://www.Gillette.com/subscribe  
Occasionally, however, Gillete does make attempts at storytelling, as in:
[email protected] knows how his parents met, it's time for him to get virtually every hair.  http://j.mp/flexball  
Or, there is the tweet to engage:

Today's #shaveface led America's revolutionary face-off against Britain in 1775. Who is he? 
TheMarioBlog post #1510
Please enable JavaScript to view the
comments powered by Disqus.
comments powered by

Disqus