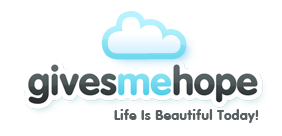 If I come across a great site that I find is uplifting I like to share it with you guys. It ties in well with fund raising events we talk about here. It's all about improving the human condition or just stepping up and helping out.
Do yourself a favor and check out this site called givesmehope.com. They're bite sized little stories of inspiration. Spend a minute before you begin your day to read a few of these stories. It'll get your head thinking right and away from the stuff you see in your daily papers.
If you have a few great websites like this, drop a link in the comments for others. You can even leave a comment telling us what's going right for you today.
I dare you to share it! 
Twitter @justfundraising