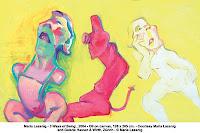 Lassnig (3 Ways of Being)
Time Locker by Henry Kuttner (1941)
Summary: Non Spoiled
Length: Twenty Two Pages
Genre: Science Fiction
Category: Time Travel
Summary:

A talented absent minded scientist creates a time machine that a lawyer exploits to win his legal cases. What will be the consequence(s)?
Favorite Quote
"Oh, damn! I'm sitting on the edge of a volcano with termites under me."
First Words
Gallagher played by ear, which would would have been all had he been a musician- but he was a scientist.
Last Words
"Yeah, that's it," he murmured after a while. "Whew! I guess Vanning must have been the only guy who ever reached into the middle of next week and - killed himself! I think I'll get tight."
And he did.
What I Learned About Writing
Take an ordinary crime novel and put a science fiction element into the act. The time machine will change the rules of the universe you are writing in. You can find solutions to problems that have no answer in this universe. The fourth dimension pushes the boundaries of the other three dimensions. As long as you have a rationale built into your world you can push the possible solutions to any problem.
Tidbits
Wrote the Novella that was the source for the movie (Time Scape 1992.)
Also known as: Lewis Pagett, Lawrence O' Donnel, and C.H. Lindell.
Wrote with his wife C.L. Moore for the magazine Astounding Science-Fiction.
Where to Find It:
I found this story in the anthology edited by Harry Turtle Dove titled
The Best Time Travel Stories of the 20th Century
published by Del Rey.