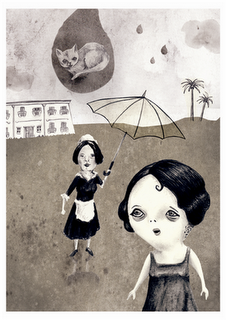 Image from bezalel instritute of Art. 
A Cat in the Rain by Ernest Hemingway
(Link Opens up into a PDF File)
 Length: 2 Pages
Genre: Lost Generation, Romance, Hemingway
Short Summary-No Spoiler
A woman attempts to get the attention of her husband and grows tired of trying, so she must find a substitute for the missing piece that is in her heart.  But where can she find something she can pour her affections to, then she thinks she saw a cat in the rain.  Could the cat be a cure for her lonesome heart?
Quote
'Oh, shut up and get something to read,' George said.
He was reading again.
Writers Note
 The wife is set on a wondrous course because of the lack of attention paid by her husband.   She then goes out to find a cat in the rain, but cats don't go out in the rain.  This is where she gets the call to the journey, a mirage, or reality, a cat in the rain is what she seeks.