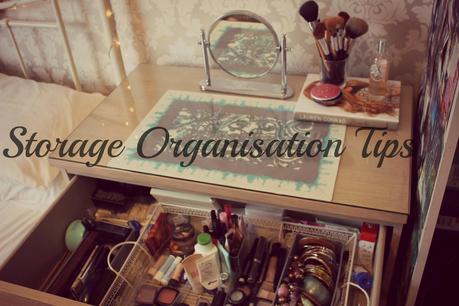 After receiving lovely positive comments on my 

make-up storage

 post, I thought it would be a good idea to write a post sharing some storage organisation tips! I've always been a very organised person so over the years I've tried out a few different ways of organising things.


01. Be clutter freeIt's no use trying to be organised if you have heaps and heaps of things you never have done and never will use. Be true to yourself, if you haven't used it in the past year, you probably never will do bin it!!
02. Categorise thingsDepending on what you're organising, put it into categories before you get started. So for example if it's make-up that you are organising, make a pile of eye shadows, foundations, eye liners etc, so that organising is much easier.
03. Make it stylishOrganising doesn't have to be ugly, shop around and find some really cute baskets/boxes, that go with your theme. I like to have decorations in my bedroom that can be used for storage. For example, have a stool for your getting ready area covered in cute material that is actually a box, so that you can secretly store things inside.
04. Set yourself a budgetIt can be done cheaply if you shop around. Places like Pound Stretcher and B&M Bargains are great for picking up handy plastic boxes and wicker baskets to store things in. Make sure you're careful with your spends as it's easy to get carried away.
05. Think wisely and planThink about where you can store things, maybe under your bed? On top of your wardrobes? Inside your drawers? Organise practically so your bedroom doesn't get cluttered. Make a plan of what you want, and where you want it. Then measure up the space and shop around to see where you can fit things.
06. Have fun with it!Look at it as a new project and get creative!