Hello my sweet friends! Finals week is here and I am spending all of my spare time with my nose in Powerpoint slides. But I wanted to take a quick study break to share a life-changing (so dramatic, right?) book that I finished this weekend with y'all :) Spoiler alert: It's such a great read - one of those books that you want to run out and buy for all of the fabulous ladies in your life, if you know what I mean!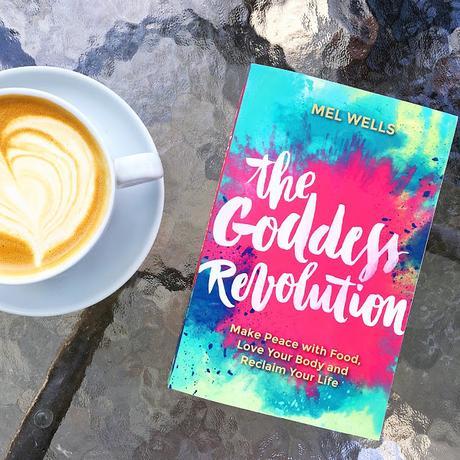 Okay so I read (more like devoured)
The Goddess Revolution
 by Mel Wells over the last week and YOU GUYS. It is so. good. Good enough for me to schedule a coffee date with someone else who just read it to discuss it. YES.
If you follow me on Instagram or Snapchat then you've seen me rave over this book the last few days. Now that I've finished it, I figured I would share it on the blog.
So what is this book about?

The blurb on the front of the book is a good summary of what you'll find inside: "Make peace with food, love your body and reclaim your life."
I love the layout of the book - short, concise sections with so many wisdom nuggets packed in.

What makes it so good?
Mel's writing is more like she is talking with you rather than at you. I've mentioned before that this is SO important when reading a "self-love" book. Her energy is contagious through the pages - you can tell that she is passionate about helping women who struggle with loving their body and their relationship with food. My favorite thing about the book is that it goes deeper than just food-based issues. Mel talks about loving yourself and what that really looks like. We hear all the time that it's important to one ourselves, but for some of us, it's hard to know exactly what that looks like. There is a section on perfectionism that really resonated with me, too!
Some of my favorite quotes:

*side note: this was so hard to narrow down - I literally have scribbles on half the pages in this book. I always had a pen with me when I sat down to read it so I could mark what stood out to me.
"Don't sacrifice a healthy mind-set in the pursuit of a healthy body."
"Life is short. Don't miss out on 95 percent of your life just to weigh 5 percent less."
"To have the body you love, you must start by loving the body you have."
"Sometimes it hurts to admit that the things we have chosen to spend our lives doing just don't fill us up anymore. We feel like we should still want it and it should make us happy, but the truth is - it's totally OK to start dabbling in other things too! So many of us have multiple passions, we shouldn't feel glued to one."
"The first and most important relationship of your life is the one with YOU. Everything in your life is a mirror of that relationship."
"When you are unapologetically authentic, there is no comparison. We are all beautiful and we are all the same."
"If you want to be your happiest, most vibrant and healthy self, really think about what you are feeling your mind with as well as your body."
"Don't lose out on those memories because you're consumed with thoughts around your food or your weight. Those beautiful, real experiences only come around once."
"You can't give from an empty cup."
"You literally do not have to do all the things or be at all the places."
"Beauty is about your aura, your energy, your vibe. Beauty is when your face lights up, beauty is when you laugh uncontrollably."
"Know this: How you treat yourself is how you are inviting others to treat you."
"Eat like you love yourself. Move like you love yourself. Speak like you love yourself. Act like you love yourself."
"Express all the love. Feel all the love. It is what we are here to do. Only love is real."
"We are all creatures of love. And anything that is not said with love is actually often just a call for love."
Okay, now that you've read half the book....
Anyway, I would HIGHLY recommend that all women read this book. It's a quick read and I'm telling you, you will devour it!
Have you read it? What are your thoughts?
xo, Jess
lovelylittlethingsblog.com