Hi friends!
Thank you SO MUCH for all of the sweet words + encouragement about our new home! I can't wait to show y'all a furnished home tour...soon! We are unpacking and hanging things like there is no tomorrow.
But today I wanted to share my February bullet journal spread: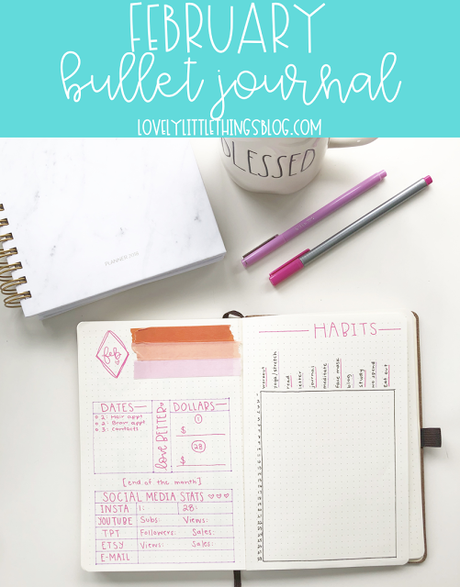 I recently started a bullet journal and y'all - I LOVE IT!
I don't use it as a planner but just as a place for all of my lists and reminders to live. I know it seems like a lot to have a planner AND a bullet journal - but it's just how my brain works, haha!
So at the beginning of mine I have all of my list pages (you can see them on my speech Instagram story highlight, actually) and then at the back I have a spread for each month. I draw these up month by month in case I want to change anything up.
February's spread includes:
Dates to remember section
Savings tracker section
Social media stats section
Habit tracker section which includes:

workout
yoga/stretch
read
letter
journal
meditate
face mask
blog
study
no spend
eat out
The habit tracker section is my favorite! I have each date written down the vertical axis and I will put an "X" in the box for each habit that I do each day.
Do you keep a bullet journal? I'm a newbie but I'm having so much fun with it!
xo, Jess
lovelylittlethingsblog.com