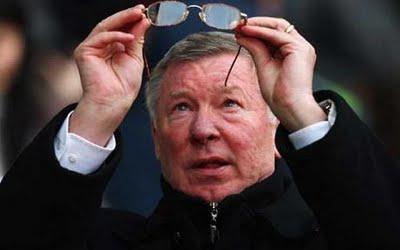 Manchester United are close to securing a deal for (insert any superstar-caliber midfielder here).
I'm not here to gripe. It is what it is. The summer transfer window is an endless drudge of world-class players linked with world-class teams, managers playing down interest in said world-class players while at the same admiring their "quality", "skill", and the "impact they would surely make on the squad", and Arsene Wenger signing teenagers we've never heard of.
The best thing about the summer transfer window, as far as sports writers are concerned, is the utter baselessness at which these claims can be made. No source? No problem. Simply match player A with club B and get to typin'.
It comes as no surprise, then, that Sir Alex Ferguson has gone on record saying United will not sign another player, never mind the continuous links to bank-busting purchases of Samir Nasri, Wesley Sneijder, and Luka Modric.
Ferguson is "happy with the players [he has] got at this moment in time."
He really put that one to bed, eh?
There's no replacing Paul Scholes. Sir Alex has acknowledged this himself with quotes like: "[Scholes] was an absolute one-off", "You can't replace players like [Scholes]", and "Scholes is a player of a lifetime."
High praise. At the same time, it's no secret Ferguson's top prospect to take Scholes' reigns is Wesley Sneijder, who is, for the time being, set to remain at Inter. Which begs the question, what will United do without Scholes? Or a Paul-esque figure, at least. There was a noticeable lack of control through the United midfield last campaign, arguably the leading cause of their Champion's League final defeat.
All things remaining constant, United will have Anderson, Michael Carrick, Darren Fletcher, Darron Gibson, and potentially Ryan Giggs working the middle of the pitch next season. Anderson, while talented, remains inconsistent. Michael Carrick bounced back in 2010-11 after an overwhelmingly underwhelming season prior. Darren Fletcher is the only true, solidified starter of the bunch, but missed considerable time last year with an injury, and was ruled out of the current preseason friendly tour of the US. Darron Gibson only plays against sub-par teams, and could still end up away from Old Trafford before the summer is up. And Giggs is brilliant, he's a legend, and he's graying.
It's not that any of these players aren't fit to contribute in the midfield for one of Europe's best clubs, but none of them, sans for Ryan Giggs, can truly be considered world-class.
All things remaining constant, central midfield will remain United's weak spot.
All things remaining constant, United will continue to play second fiddle to Barcelona in Europe.