Do you love that feeling when you come in the door and your dog jumps up to greet you?  Well, unfortunately you are encouraging bad behavior.  If you are aggravated that your dog jumps on other people or on you when you don't want him to, this could be a common cause, and it can lead to separation anxiety.  Whether your dog is ten or a hundred pounds, I'm sure you don't want him to jump up when he wants.  If you love it when you come home but not the rest of the time, your dog gets mixed signals and doesn't distinguish the difference.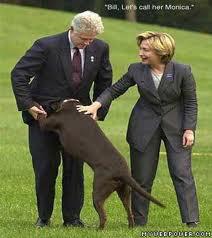 Here is an idea you can start working with.  Start teaching your dog that if he is calm, then he gets praise.  Don't reward excitement and you probably are without realizing it.  Even pushing your dog off of you can come off like a fun game to play to him.  You need to claim your space, so start coming in the door ignoring Fido.  Now, he's still going to jump, maybe even more so at first.  As soon as he does, use a treat and let him smell it.   You then try and force him into a sit position by putting the treat in front of his nose and moving it back along his head.  If he doesn't know how to sit yet you will probably have to push his rear-end down as well.  When he starts to sit say "sit" and reward him when he is sitting.  Timing is key!  Don't repeat the sit many times either, one time is enough.  Do not praise him vocally either or get excited when he does it because this will excite him again and defeat the purpose.  He needs to understand that this 'new thing' is the norm, not anything special.
Repeat this about 10 times a day for a few days, coming in the door and having him sit.  He will start to anticipate the treat soon and when he does make him wait for it a little longer, then even longer, then don't wait at all.  You need to mix it up for a couple of days.  Stay consistent by keeping treats in your car so you can come in from work or the store and do the same thing.  You should then mix it up by not always treating him, just have him sit, pause, then you walk away without a sound.  If he continues to jump when you move away, simply disagree with it.  This should be with a sound that isn't a human word, a staccato sound like an abrupt 'ah' with your hand out to let him know that your body is yours, not his.  Claim your space!  Use whatever sound you like.  The cesar milan sound is popular like a 'schht'.  If he is relentless, you need to take a deep breath and stand a little more authoritative like your lecturing your kids.  Also, put a leash on him so when he jumps you can do the noise with a slight pop of the leash down and to the side.  Now, it's important not to turn around right away.
The exercise isn't finished unless he is submissive and not fixated on you.  You can tell this by his body language which should look relaxed, the head not focusing on only you, and the ears not erect towards you.  Him laying down with these signs is perfect.  It may take several minutes and especially with a puppy it could take many tries.  You must be patient.
The next step is to have a neighbor help or someone he likes to jump on.  Have the leash on him so you have complete control.  It should be loose and relaxed.  When the knock on the door comes have him sit a few feet from the door.  The neighbor should use no eye contact the first several tries because this heightens the excitement.  You can use treats if you think you need to, just make sure you are the one giving it to him, not the neighbor.  The attention must stay on you.  Eventually the neighbor can look at the dog and pet him with you there to correct him if he tries to jump.
Do this exercise in different places where your dog jumps.  It could be just when someone comes to the door or it could be outside, at the dog park, anywhere.  The most important thing is consistency.  And you must continue to practice it several days a week for many months to see a true difference in behavior.
One more tid-bit, it's always a good idea to exercise your dog before doing this controlled exercise.  You never want to set him up to fail so he needs to be a little drained of the extra excitement.  If done properly you will be surprised how quickly Fido picks up what you want him to do.