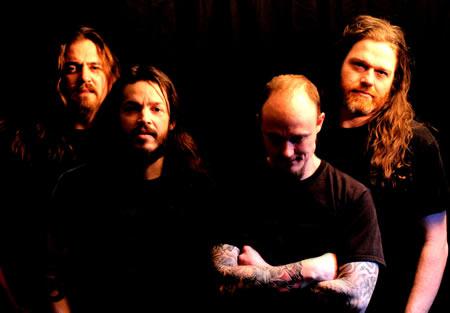 Stone Axe
might well be the most proilfc stoner rock band these days. They have released two full-length albums, split singles, EP's, love vinyl in various formats (7", 10"and 12"). Oh, and there are different editions of their albums for the USA and Europe, too. Keeping track can be hard, since most of their one-off's appear on small labels specializing in (very) limited runs. With the release of
Stone Axe II
as a Deluxe 2CD set, fans of the band are treated to over an hour of those rarities on the second disc.
Core band members Dru Brinkerhoff (vocals) and Tony Teed (all instruments) don't do filler. Making sure that every note counts they bring back the ghosts of Thin Lizzy (Those Were The Golden Years) can do Cream better than Cream themselves could (at least nowadays), with a high energy cover of SWLABR.
Tony Reed is self-styled Seventies rock archivalist and he has internalized every hook and riff from that era. Thankfully he doesn't fal into the trap of epigonism, but he has found his own style, a rumbling sound that come to the fore in instrumentals like the galloping Stonin' and the monumental closer of the set, Transmissions (pt2). Brinkerhoff's finest moments are the bluesy Shine On and the trashy throat ripper Metal Damage. Stone Axe that can sound dangerous even when the play acoustic. Chasing Dragons off the original album makes you look over you shoulder to make sure that the nightmarish creature isn't lurking in the corner of the room.

Stone Axe:
Dru Brinkerhoff: vocals
Tony Reed: guitar
Mykey Haslip: drums
Mike DuPont: bass
Stone Axe - 2 Disc Expanded Edition and the LP are released on Ripple Music. Release date: April 10th (April 2nd in the UK).
CD 1
Old Soul
We Know It's Still Rock n Roll
Chasing Dragons
Live For The Day
Those Were The Golden Years
On With The Show
Ain't Gonna Miss It
One More Time Before I Die
Just A Little Bit
Turned To Stone
CD 2
SWLABR
Black Widow
Shine On
Rhinoceros
King of Everything
When I Came Down
Taking Me Home(live)
Stonin'
The Devil's Hand
Metal Damage
For All That Fly
Nightwolf
The Last Setting Sun
Slice the Darkness
Transmissions (pt2)
Live dates:
03/02 Tumbledown @ The Manette Saloon & Side bar, Bremerton, WA (acoustic)
03/03 Helter Skelter Lounge, Poulsbo, WA
03/10 Slim's Last Chance, Seattle, WA (w/ Vaporland)
03/17 Casey's Bbar and Grill, Belfair, WA (w/ Klementine)
03/30 Hell's Kitchen STONEFREE (Stone Axe perform the music of FREE), Tacoma, WA (w/ Electric Falcons)
03/31 Coo Coo'S Nest, Port Angeles, WA
04/10 The Rambler, Eindhoven, The Netherlands
More European shows will be announced shortly.
Video: Stone Axe - Chasing Dragons