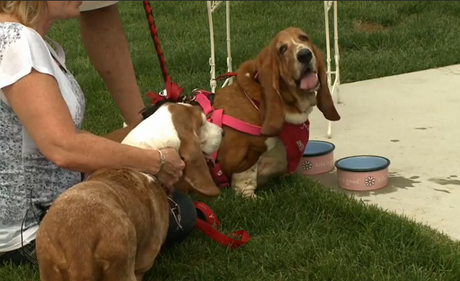 This is one of those stories where you wish animals could talk.
If they could, a pair of Basset Hounds named Allie and 'Bama would probably have quite a story to tell — like where they've been the past half-decade.
Last Saturday they were reunited with owners Brenda Travis and her boyfriend, Tom Shields, five-and-a-half years after they were stolen from the couple's home in Murfreesboro, Tenn.
"We would look in neighborhoods and just drive around; we drove around for months, just looking."
Brenda and Tom had since moved to Wichita, Kan. and never expected to see the dogs again.
Then, a couple weeks ago, Brenda got a phone call from kennel technician Becky Davis of the Paulding County Animal Shelter.
Someone found Allie and 'Bama wandering around the parking lot of a Dallas, Ga. tractor supply store and took them to the shelter on July 5.
Shelter workers tried a microchip detector on the dogs and hit pay dirt.
Davis tried three phone numbers that came up. The first two were no longer good, but the third put her in touch with Travis, who couldn't believe the message.
"I asked her, 'do you happen to have two basset hounds'?" Davis said.
"And I said, 'no ma'am, ours got stolen five-and-a-half years ago'," Travis replied.
"I said, 'well, we have them here at the pound'," Davis told her.
"There was a long pause and a lot of tears," Travis said.
"She said, 'oh, my gosh, you are kidding me'," Davis said.
"I said, 'no ma'am, they're here' and it brought tears to my eyes," Davis added.
"I asked her how they were and she said, 'they're healthy and fat'," Travis said.
"I said, 'they're in good condition' and she said, 'oh, my gosh'," David said.
Thanks to volunteers from Guardian Angel Basset Rescue, Allie and 'Bama were reunited with their owners near St. Louis, hundreds of miles and several years after they last saw each other.
Rescue volunteer Don Hunt brought the dogs there for the handover.
Back at the Paulding County Animal Shelter, Davis was also celebrating.
"Oh, yeah, that makes it worth working here; I love it; I love animals," she said.