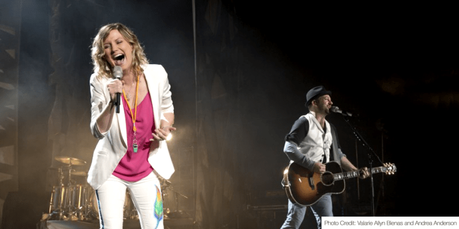 Sugarland, one of the most popular and successful country acts of the early 2000's, is coming back, and a lot of people are excited.
The duo's last charting single ( Tonight) was released in 2011, and their last release of new music came in 2012 with the music video for Run, with Matt Nathanson. In the time since then, both members of the group have been busy... but they haven't been Sugarland.
But now, after five years, and individual successes for both Jennifer Nettles and Kristian Bush, the Grammy, AMA, CMA, ACMA, and CMT award winners have officially announced that they're reuniting to bring new music to the world.
Given the previous success of the duo, there are a lot of people with high hopes for Sugarland's new music. And it makes sense. Country music fans fondly remember singing along to songs like Something More, All I Want To Do, Stay, and Baby Girl. They remember the videos and concerts and talent that Nettles and Bush shared with them. And even though it's only been five years, there's a nostalgia that exists in remembering those songs and that time in country music.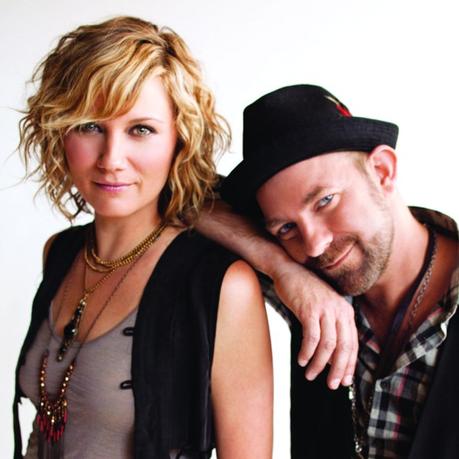 photo credit: Dana Tynan.

What country fans, and the industry should keep in mind, is that the new Sugarland may sound different than what we were once used to.
As both Jennifer Nettles and Kristian Bush have moved forward in their solo careers, they have undoubtedly found new inspiration, goals, and ideas of what they want their music to be. However, we can all still believe with 100% certainty that these two get each other and know what they want to do and how to do it. The excellence that they showed in their career's first and second act will be here again for their third, of that we are sure.
Note: There's a not so small part of me that really really hopes we get at least one song and video that gives Jennifer Nettles the chance to emote as strongly as she did in both Just Might (Make Me Believe) and Stay.
With five Top five albums, including two #1's and four that hit Platinum status, Sugarland has accomplished more than most do in the world of country music. And now, with their return coming at some time in 2018 (we hope, based on the news that they've already started writing and recording new music) we're ready to see them add to those totals and milestones.
To celebrate the return of Sugarland we have put together our personal Top 10 list of videos + a bonus track for everyone to listen to and sing along with.
Choose your favourites, read a little about why they're ours too, and hit play!
Sugarland Top 10
Arguably their most famous and recalled song, Baby Girl climbed to #2 on the country charts in the United States and Canada. It's almost crazy to look back and see that this song didn't go to #1 given the impact that it had, and the way it introduced Sugarland to the world. We still love it, we still know all of the words, and if you asked us to sing it with you, we'd be right there with you.
Stuck Like Glue
Their second most viewed video on YouTube, and their most streamed song on Spotify, Stuck Like Glue took some people in the country music world by surprise when it was released in 2010. The video is a lot of fun, and every time we see it and see Ryan McPartlin on the screen we're reminded of Captain Awesome from Chuck, and that makes us happy too.
All I Want To Do
Some days you don't want to do real world adult things, you just want to stay in bed, share a space with someone special, and put things off til tomorrow. And if you're feeling that, or wish you could be doing that... All I Want To Do should work for you.
The second of Sugarland's five #1 hits still rings strong and true. "I ain't settling for anything less than everything" is powerful in its message, and familiar to many. The feeling of wanting more, needing more, and knowing that you deserve more is universal, and it's just as true to everyone know as it was when Nettles and Bush released the song in 2007.
Already Gone
A story about life, a story that doesn't shy away from what's real, a song that is country music through and through. From mama to love to heartbreak, it's all there, and nearly 10 years later, it's still there.
This 'let's run away and be in love' song builds to a strong chorus and holds you right where it wants you. And if you're not singing along, you're missing out. And while it may be a little cliche, the idea of "I don't want to if you don't want to" totally works for us.
Just Might (Make Me Believe)
Another track from early in Sugarland's career, Just Might (Make Me Believe) hit #7 on the charts, but remains one of our favourites. The sweetness in the song, the harmonies, and the overall love that it fills us with holds up 12 years after being released.
Something More
We have all, at one time or another, felt the exact feeling that this song shares. Whether we're looking for more in love, work, or any other facet of life, "there's gotta be something more" feels real and familiar and it's nice to know we're not the only ones who have thought it. Plus, the song is catchy and we like it!
With more than 90 million views on YouTube, Stay has certainly helped to release more tears from viewers than anything else in the band's catalogue. Stripped down and simple, the Stay video is still the bar that I use to measure other videos against when they try to the same thing.
Life In A Northern Town (w/ Little Big Town and Jake Owen)
Performed live at the 2008 CMT Awards, this collaborative cover of The Dream Academy's Top 10 track still stands as one of our favourite country music award show performances. Let the sounds of these seven voices wash over you, and then feel the goosebumps that I get when they all come together in harmony at the end. It's damn near magical.
One of the most powerful songs we know, sung by Jennifer Nettles' powerhouse voice - this cover is a winner. Add in the live crowd singing along and taking over on command, and Sugarland's cover of Joey is one of the best we've heard, and one that we can turn to whenever we need it.