by Conroy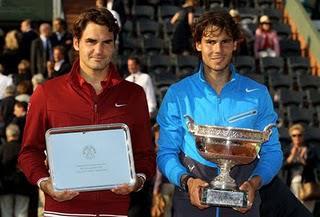 A familiar final pair -- and result
The

French Open results

prove that you must be wary of doubting great champions as Rafael Nadal and Roger Federer once again grabbed the limelight in Paris.
---
When I

last wrote about tennis

, Novak Djokovic has just

beaten Rafael Nadal

in the finals of Indian Wells to win his third straight tournament and 20th straight match. I posed the question of whether this would be merely a career run or the beginning of a major shift at the top of the game. Well in the weeks and then months after, Djokovic

kept on winning

, beating Nadal in a thrilling three-set

final in Miami

, transitioning smoothly to clay to

capture his "home" tournament

in Belgrade, and then most impressively, beating Nadal twice on clay in the finals of

Madrid

and

Rome

– both times in straight sets. By then Djokovic had the world's attention, his match winning streak was extended to 39 and he was 37-0 to start 2011, just five wins shy of tying the record set by John McEnroe in 1984.
When the French Open (or Roland Garros as the French call it) started Djokovic stood alongside Nadal, the five time Roland Garros champion, as the favorite. A win (or finals birth) or a Nadal loss, and he would take over the number 1 ranking from the Spaniard. Perhaps for the first time since his winning streak started, he had a lot to lose. He didn't let it affect him, navigating a tricky draw, including a very game Juan Martin del Potro in the third round, to work his way convincingly to the quarterfinals. Then he got a free pass and four days off when his quarterfinals opponent, Fabio Fognnini, withdrew due to injury. As he took the court for the second semi-final, his winning streak stood at 43 matches (41-0 in 2011). He was one win away from a much anticipated final against Nadal; and a pivotal moment for both men. There was only one problem, his semi-final opponent was the greatest grand slam player in history.
Based on his results from the spring and Djokovic's remarkable run, Roger Federer entered the tournament as the third seed (his lowest seeding at a grand slam since 2003) and under the radar. No matter, he cruised through to the semi-final, winning all fifteen sets he played, most of them lopsidedly. Still, when he stepped on court versus Djokovic, few thought he would prevail. He proved the doubters wrong.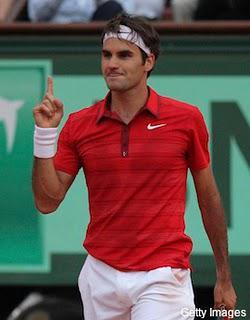 Federer after beating Djokovic
Federer served great, played terrific defense, was tougher in the tie-breaks, and refused to give in even when Djokovic had the momentum. He out fought Djokovic to win the first set tie-break, and took advantage of a lull by the Serb to take a two-sets-to-love lead. Djokovic regained his form and won the third set. He got to Federer's serve late in the fourth set, breaking to give himself the opportunity to serve for the set and take the match the distance. By this time it was getting late and dark. That's when Federer's brilliance came on full display. He broke Djokovic's serve then fought his way, by some great shot-making, into a tiebreak. He took advantage of the moment, serving and hitting his way to a 6-3 lead and three match points. After more than three-and-a-half hours, and nearing 9:30 at night, he prevailed, winning on his third chance with an ace. His celebration said it all, he waved his index finger (signaling number 1) and let out a howl, as if to say, "I'm still here". It was simply a great performance by Federer.
Djokovic's streak was over. Looking back, the result isn't so shocking. I thought Federer was playing as well as anyone during the tournament (he was the only man to reach the semi-finals without losing a set), and he certainly wasn't (and isn't) going to lose every match against Djokovic. Their styles result in very competitive matches as evidenced by the fact that over their previous 18 matches, each had won nine. Djokovic had beaten Federer in the semi-finals at the previous two grand slam events. Was that likely to happen again? After the match Djokovic noted that a loss was coming. Too bad for him that it came just short of a French Open win, the number 1 ranking, and setting multiple records for the longest winning streaks in the Open Era. I've provided a few additional thoughts on Djokovic's streak at the end of this post. For Federer's part, he noted that he wasn't going to lose the match after winning the first set and taking a big lead in the second. That determination was on full display late in the fourth set.
---
However well Federer matches up with Djokovic, it's the opposite with Rafael Nadal, especially on clay. The Spainard, five time winner and defending champion, entered the tournament playing well but on a four match losing streak to Djokovic – in finals no less. He played surprisingly tight early in the tournament,

needingfive sets

to subdue big serving American John Isner in the very first round. But he grew stronger and more confident over the two weeks. He

outclassed Robin Soderling

in the quarterfinals (the only man he's ever lost to at Roland Garros) and then

toughed his way

past Andy Murray in the semi-finals. The moment Federer hit that final ace against Djokovic, NadalGarros, including three straight years in the final (2006-08). At best, those matches

were competitive

. At worst they

were lopsided

. Nadal was never in danger of losing.
I've written about the

dynamics of this match-up

before, with Nadal's strengths aligning with Federer's weaknesses. Sure enough, the

final played to form

. Federer couldn't sustain a high enough level for long enough, made too many errors in the face of Nadal's relentless pressure, and failed to take advantage of his opportunities. He jumped out to a 5-2 lead in the first set. Win that set and his chances to win the match would have improved dramatically. He didn't, losing five straight games and the set 5-7. After that Nadal had the upper hand, with early leads in the remaining sets. Federer fought hard, including some fantastic play that featured the aggressive, confident ball-striking from the semi-final, and carried him from behind to win the third set. Federer failed to convert a chance to break Nadal early in the fourth set. Nadal immediately took the advantage and raced away. In the end, the narrative was familiar: Nadal beats Federer to win the French Open.
---
With the win, Nadal claimed his tenth grand slam,

tied for sixth

on the all-time list. He's the second youngest man to win ten grand slams, behind only Bjorn Borg, and is six months younger than Federer was when he won his tenth. He's most likely cemented his position as the greatest clay court player of all time and is climbing the ranks of the all-time greats, period. It was his fourth title in the last five grand slam tournaments, a run even Federer must be impressed with. The win and Djokovic's semi-final loss also mean that he maintains the number 1 ranking (albeit by a

razor thin margin

) and will be seeded first at Wimbledon.
The results from the French Open lead to some intriguing questions heading into Wimbledon, which starts in less than two weeks.
Can Nadal carry his momentum onto grass and win his third Wimbledon title? There's no doubting the Spainiard who has made the successful transition to grass two times previously (2008, 2010).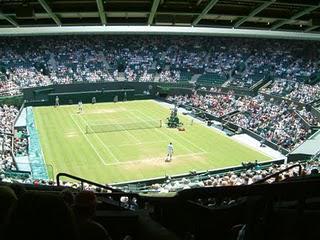 Who will celebrate a win on this court in a few weeks?
Can Federer take the good from his performance in Paris and win another grand slam? He's won Wimbledon six times, and in his defense, was suffering through back problems last year when he failed to reach the final for the first time since 2002.
Can Djokovic rebound from his only loss of the year to challenge at Wimbledon for the first time? His

stated goals

are achieving the number 1 ranking and winning Wimbledon. This may be his best chance for both. Federer and Nadal have shown that to be the best you have to play well all the time. Can Djokovic continue to live up to that standard?
Can Andy Murray breakthrough and win his first grand slam in front of a British crowd? The Scot is bound to win a grand slam at some point, is playing well, and there might be just a tad less focus and pressure on him this year.
We're fortunate to have all of the favorites healthy and in-form heading into Wimbledon, tennis' main stage. Here's a key to keep in mind, the side of the draw that Roger Federer ends up on. Whoever has to play Federer in the semi-finals (assuming the seeding holds of course) will have the much harder task of winning the tournament. For Nadal, Federer, Djokovic, or Murray, I'm sure they'd love a scenario where they could win without having to play any of the other top guys. Speaking for all tennis fans, let's hope that isn't the case.
---
In sports, and particularly for tennis, I always like to remember that axioms that nothing lasts forever, and nobody wins them all. But many times, whether at this just completed French Open or perhaps at the upcoming Wimbledon, the "old" masters do have their way.
---
A few thoughts on Djokovic's winning streak:
This winning streak was remarkable given the fact that he won tournaments on both hard courts and clay courts, beat the other four men in the top 5, ten times (Nadal-4, Federer-3, Murray-2, and Soderling-1), and accumulated almost all the wins in high profile tournaments with deep fields (two Grand Slams, four Masters 1000 tournaments, and the Davis Cup final).
Djokovic celebrates the title in Rome

Djokovic pulled the rare feat of transcending the world of tennis. His streak became news across sports. He name is now familiar beyond tennis. Let's hope for his sake, and for tennis', that his play will keep his profile as high.
As I wrote in my last tennis post, he reinvented himself during this time. Changing the perception of a fragile player in both body and winning spirit. His physical stamina and mental toughness were on display on many occasions, especially in big moments against Nadal, and when his streak nearly came to an end in the Rome semi-finals against Murray.
Djokovic has the talent and mentality to be the number 1 player. He earned that distinction with his winning streak over the last six months. He's oh so close to a very rare achievement, being ranked number 1. If he makes it, he'll be just the 25th man with that distinction since the rankings were established nearly 40 years ago.