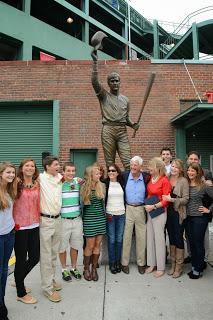 The Red Sox won the weekend series from the Blue Jays on Sunday, as Felix Doubront pitched seven strong innings, as the Sox won, 5-2.
David Ortiz belted his 29th home run of 2013, and Jackie Bradley connected on a three-run shot, and that was all the Red Sox needed for their 95th win of the year.
The Sox ended their regular season home schedule with their 53rd win at Fenway, and that is tops in the majors for any team at home. (They have won 42 on the road, and that is second-best in MLB.)
The Red Sox have a couple of things to still to play for. They lead Oakland for the best record in the AL by 1 1/2 games, and Detroit by 3 1/2 games. The best record gets the Wild Card game winner, no matter what division they come from.
And, if they win run the table and win their remaining five games in Colorado and Baltimore, they will win 100 games for the first time since 1946. I know that's not a big priority right now, but I still love to see them pull it off.
Congratulations to the great Carl Yastrzemski, as he was honored by the Red Sox today with a statue that was unveiled outside of Fenway before the game. It was made from the final game he played in back in 1983. All the best to The Captain and his family (pictured).