Yours truly, on stage, by Charlene Winfred.
Portfolio. I always set out wanting to update this as the festival season unfolds during the year and I shoot new stuff – but it rarely happens! So I recently spend a few hours going all the way back to 2012 and selecting and exporting a new 2017 portfolio. 33 pictures, a lot of new ones and some old classics. You can view the portfolio, or better yet, stay with me during a few thoughts and scroll down to see the entire portfolio with a little personal caption for each image.
Still Dreaming Out Loud
I want to be remembered as a great music photographer. Ok, I first and foremost want to be remembered as a decent human being, a good boyfriend, son, brother, friend, colleague, stranger. But photography wise, I want to be remembered for the work I did in music. Nothing more, nothing else, nothing less. That is my passion and my goal.
Ok, to be perfectly honest, I want to be the best music photographer in the world. There is no such thing of course, and even if there was, man is it slow going, I am probably no. 2342423834 on the list right now. Still. I gotta aim for something. I want to be great at this, I really do. I have enough of an ego to have written an ebook about music photography, even though I have less experience than many. But I gotta fake it till I make it as they say. And writing that book was an amazingly useful exercise in examining how and most importantly, why I shoot. I think we all forget to ask this question of ourselves. Why do we do things? Why do you shoot what you shoot? How you shoot it, with what gear is not interesting. No, it is the why of it. I have my better half to thank for inspiring me to ask myself these questions, to understand why the why is the thing, the guts.
Why do I shoot music? Simple, I absolutely love music, and photography is my way of being part of the scene. It is how I fit in. It is amazing how long it took me to figure that out, but when I did in 2012 things happened fast. I dream that it is me up on stage playing whenever I shoot a gig. I rarely watch photography documentaries online, but I watch as many music documentaries as I can find. I have dreams where I am a successful musician on a world tour. So really, in my head I am already pretending that I am performing, so being on stage with my camera, I feel totally natural, I often just ask myself how I would like to be captured and click the shutter button and make that picture I have in my head. Other times it is just pure instinct. I just "know" somehow. It's the best job in the world on the best days when everything feels right, everything clicks, everything is in sync.
I don't know how long this ride will last but I will keep dreaming, keep working, keep pretending, keep failing, keep shooting. I won't make a succesful musician anytime soon, but there could be a decent music photograph or two in my future, I live in hope!
33 pictures
From 2012 to 2016, about 5.5 years of work summed up here. Roll on 2017 and stay tuned dear reader, a shot or to might make it into the collection!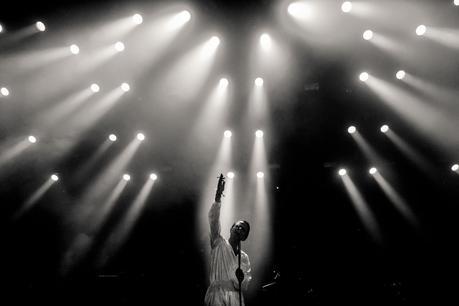 2016. Choir of Young Believers at Roskilde Festival. This shot almost got deleted, it looks truly horrendous in color (damn LED lights)! But a black and white conversion revealed a strong image I now really like very much. It is more like a still from Close Encounters of the Third Kind than a music shot, and I always love adding another dimension (pun intended).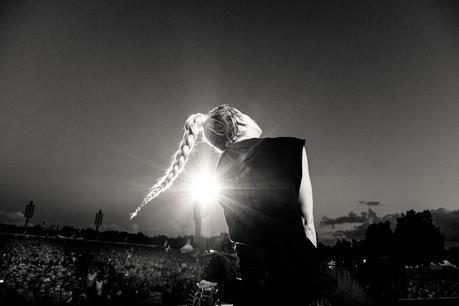 2016. MØ at Roskilde Festival. She put on a great show for everyone, including the photographers. Shot at 16mm, she is sitting right in front of me and someone very kindly turned on a massive spotlight shining straight at her – and me.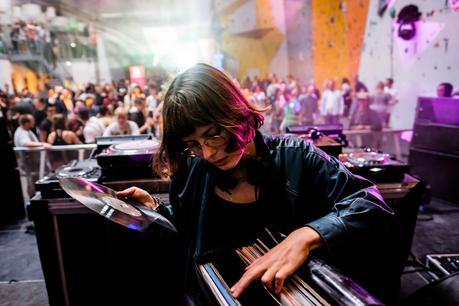 2015. Courtesy at Distortion, RBMA stage. As soon as I saw the table with her records behind her, I knew there was a potential shot here. It is not often the plans work out this well as they did here. My favourite ever artist live portrait.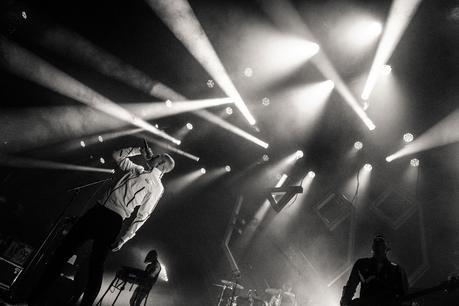 2016. The Minds of 99 blowing my mind at Roskilde Festival. First time I ever saw them live. It is 2AM, been at work for 4 days and I can't stand up anymore. But they blew me away, so much intensity, punkish energy. I just cannot shoot a straight picture and I want the energy, lights, action to come through. So I tilt, rotate and love how crooked it all is.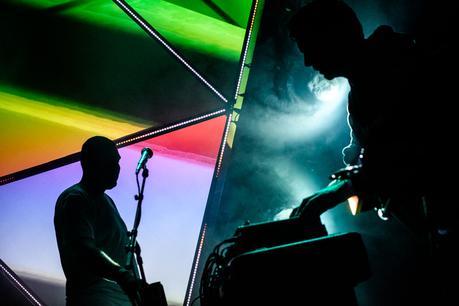 2015. AV AV AV at Trailerpark Festival. You know, this is not really a typical picture for me, shooting purely shapes and silhouettes – but this shot was so obvious, even I could see it!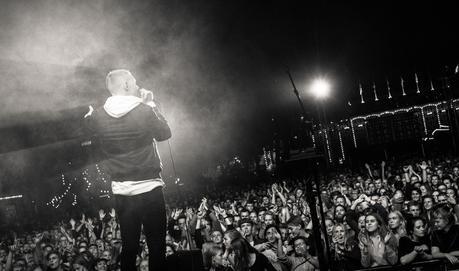 2016. The Minds of 99 at Tivoli. I got to follow the band during this gig and I can still replay the whole day in my mind. Wonderful memories. Wonderful performance, awesome light. Front singer Niels beaming in from outer space in this shot.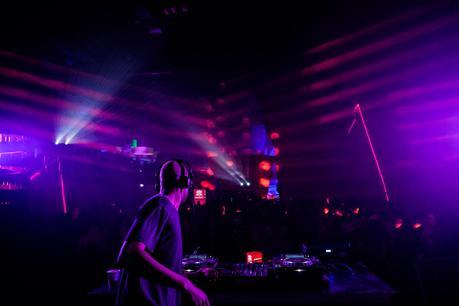 2015. Bambounou at Distortion festival, RBMA stage. He played this awesome tribal-sci fi techno so it was only fitting the insane lights (best ever!) made the big room look like a sci-fi movie set. Love, love love this shot, love Bambounou, looooooved this event. I pretend it is me in this picture. If I DJed, that's how I want to be captured.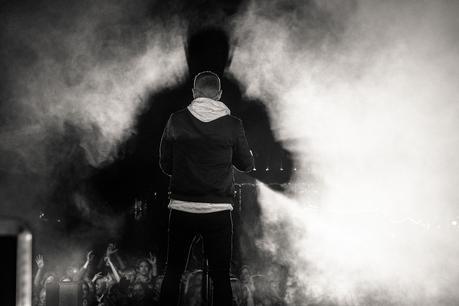 2016. The Minds of 99 at Tivoli. There is a Ghost in the Machine! I am kneeling and hiding on stage behind the big rig with drums, keyboards etc…and this happens. I shoot through all the gear in amazement, how the hell the smoke and light made this effect I still don't know. But there truly was a Ghost in the Smoke.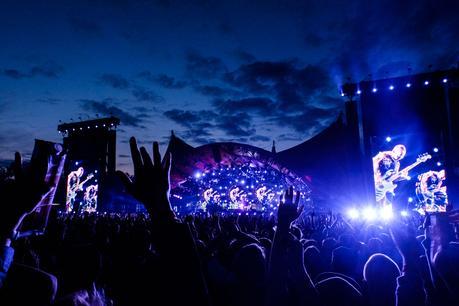 2016. Red Hot Chili Peppers at Roskilde Festival. We photographers had to shoot this gig from FOH (front of house, the sound mixer tent far away from the stage). No photo pit access allowed by the grumpy Peppers. It was a great spot for crowd pictures though!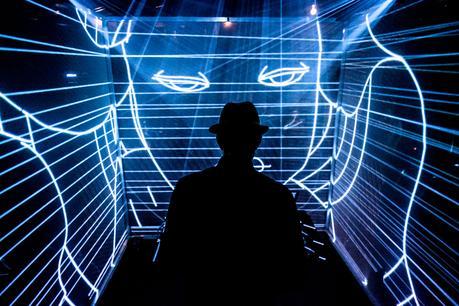 2014. Rumpistol in the KUBE, at Pumpehuset. Tripping the light fantastic I tell you. This was so dizzying! 3×3 meter cube, semi transparent screen material, the artist is inside the cube, projections on 3 sides = massive mind fuck and awesome visuals! Here I am behind Rumpistol shooting towards the audience.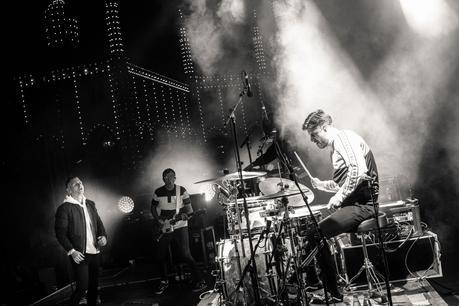 2016. The Minds of 99 at Tivoli. Ok, this concert is rather heavily presented, but it was amazing and means so much to me. And I like the pics. This is drummer Louis mad drum solo at the end of the opening track, the energy is insane and I am just in the right spot. Uncropped shot my dear friends, sometimes I get it right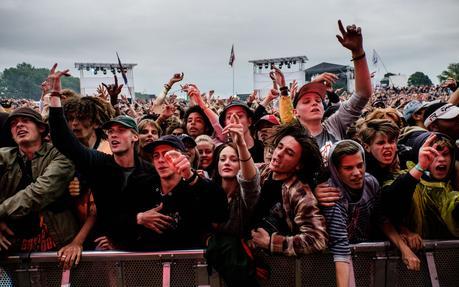 2016. Crowd at Young Thug, Roskilde Festival. I love hip-hop and have listened to it since 87 but man, Young Thug was crap. Clearly the young Young Thug crowd (most about half my age) disagrees with me. Everyone just went totally bonkers, it was much more fascinating to watch than the Thug himself.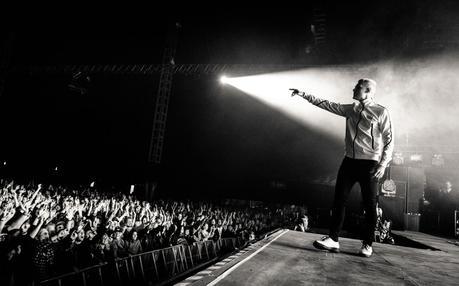 2016. The Minds of 99 at Roskilde Festival. Singer Niels enters the stage and owns the entire room and the 20,000 strong audience. Perfect moment.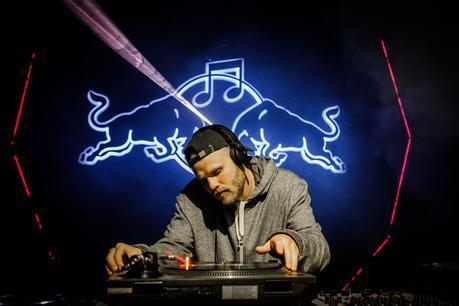 2016. Kasper Marott at Distortion, RBMA stage. Kasper goes on at 4AM at the closing night, the sun has risen again and his analog techno tunes is the perfect way to start the morning. Kasper is quietly cueing up a tune while lasers shoot out of his cap.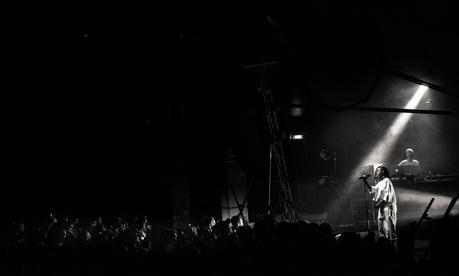 2016. Kelela at Distortion, RBMA stage. What a wonderful performance by Kelela. And the "EDM" style lights in the tent were toned down to just a few spotlights during her show, a chance to capture some much more moody images. A singer on a stage, facing the crowd and the great unknown.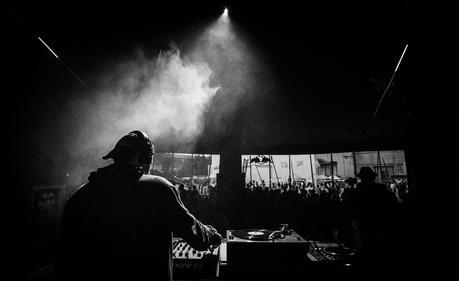 2016. Kasper Marott at Distortion, RBMA. 4.30AM after 2 long days, and I can hardly stand up, but this is the good stuff, Kasper, techno, vinyl, mood light, the rising sun outside. Time to muster energy for just 10 more minutes of shooting, and I got the shot I wanted. Again, I am just shooting me. This is how I would wanna be captured.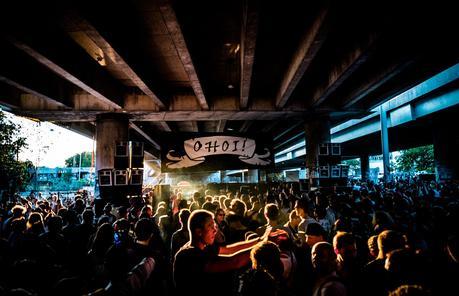 2013. Bas Under Buen festival in Frederiksberg, Copenhagen. A classic event, I have been along for the ride since 2012, actually I kinda started my career here 5.5 years ago! The setting at this festival is awesome and knowing it well meant I knew just when the sun light would hit the crowd. Good times, good raving. Ohoi crew forever!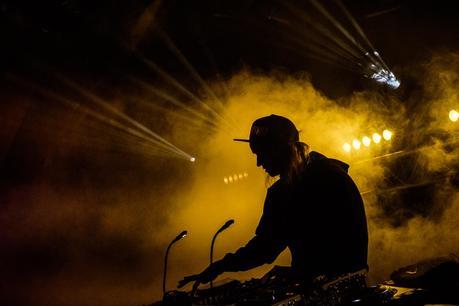 2015. Cashmere Cat at Distortion, RBMA stage. Smoke is a great simplifier, suddenly the big stage and everything around us is hidden and the image becomes intimate. What a truly great set the young Norwegian played and what an awesome 2 day event this was. One of my favourite ever. Imagine perhaps the best stage ever, wicked line up, best lights, best shooting conditions ever, pure bliss.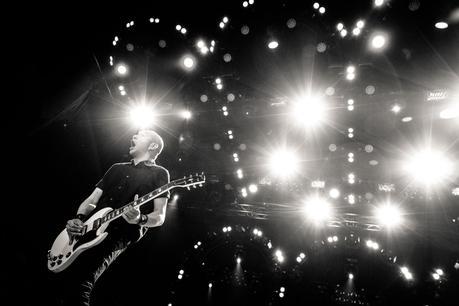 2016. Danko Jones at Roskilde Festival. Sweet lord, a man with a guitar, what the heck! Rocking set by Danko and you know, I like this, I am diverse, I can shoot a rock band if I have to!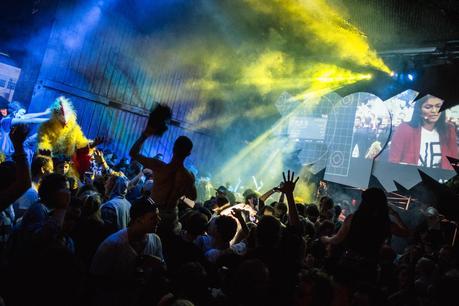 2013. Eloq and his container stage creating mayhem at Distortion festival. Just pure carnage. And a chicken. Love the chicken.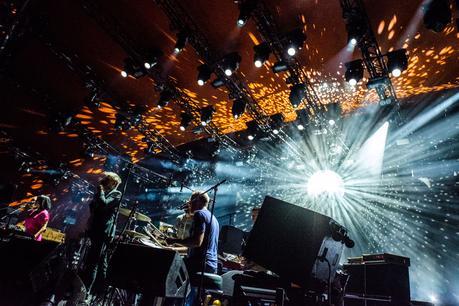 2016. LCD Soundsystem at Roskilde Festival. The band was so covered in gear it was impossible to shoot anything of them. So I went for the disco ball. When in doubt, always go for the disco ball!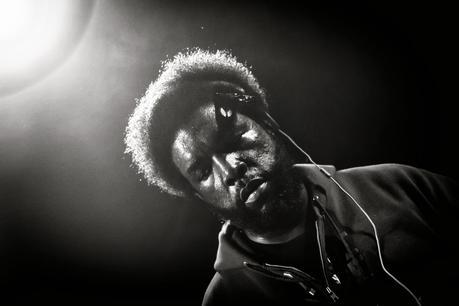 2014. Questlove at RBMA party at VEGA. I still can't quite believe I shot Questlove. He is a total legend. Best DJ set ever. I mean EVER. I had the access to get super close so I got in and shot this portrait with a 35mm lens so I could get the light spot too.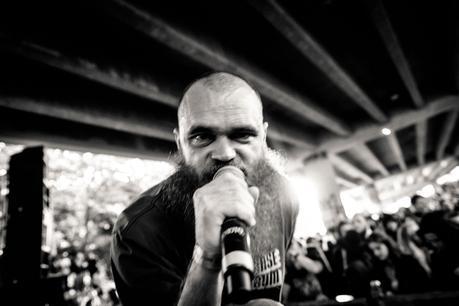 2016. Ras Money at Bas Under Buen festival, Frederiksberg. Thanks Rasmus for almost climbing into my lens! He was a ball of energy MCing his own jungle set, and I was really sick (man-flu, music photographer kind, the worst kind!) and not very mobile. Rasmus came to me and literally gave me this shot!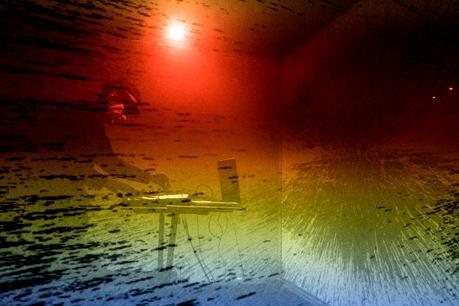 2014. Rumpistol and total mindfuck again inside the KUBE. Holy moly this was an amazing performance to photograph. This is shot from the side of the KUBE, Rumpistol is on the inside, I am outside it on stage.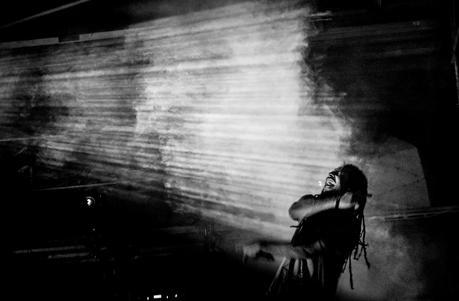 2013. SGT Pokes at Strøm festival. I will be honest, I don't remember shooting this picture, I may have had a few drinks! Sometimes I might have 1-2 drinks to just loosen up and be in the groove with the beats but here I had a bit more and it obviously worked!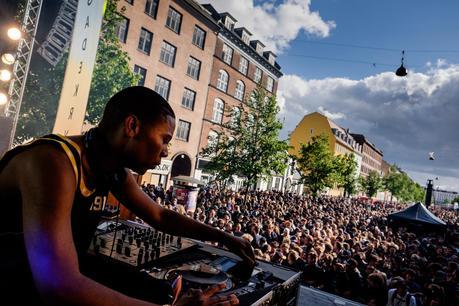 2015. Shaq DJing to all of Copenhagen at Distortion festival. This is why they invented wideangle lenses! I like Shaq's concentration and the mad scene of the street totally packed in front of him.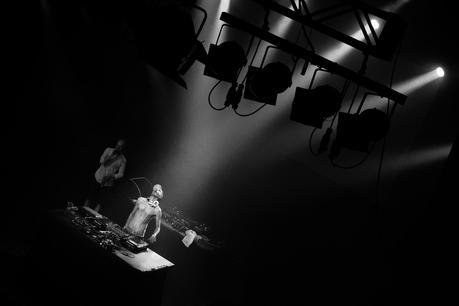 2012. Copyflex at Strøm festival, JG on the mike behind him. One of my "classic" old shots. Shot so much on pure instinct back then, and there is only one shot of this scene among my raw files, one damn shot. Lucky I hit the right moment.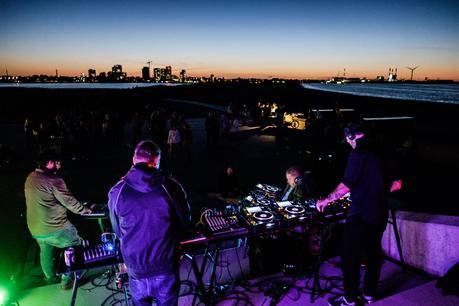 2015. Skipper Røvskum at Strøm at Amager Strandpark. Røvskum forever! That is Copenhagen in the background on a wonderful summer night. It would be a damn shame to shoot this and not get that background, I always want to show the setting too, especially when it is this almost surreally epic.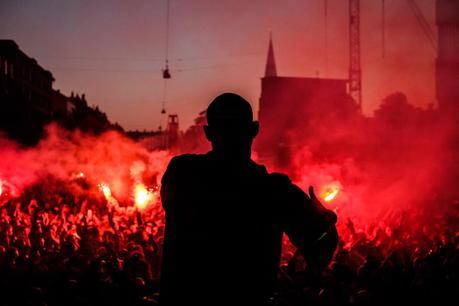 2015. Suspekt at Distortion festival, Red Bull stage. This was total mayhem and those flares are probably not nice in the middle of the crowd, but I could not help shooting it, it looked totally mad, like a city on fire.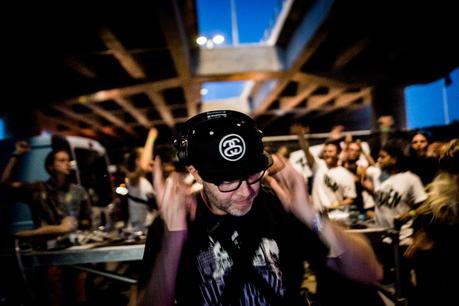 2014. Tim Driver at Bas Under Buen festival, Odense. I totally love this shot. Everything and everyone but Tim is moving and out of focus and going nuts to the mad mad bass beats. How the hell I made this picture, I have no idea, I was really drunk – again, obviously it worked!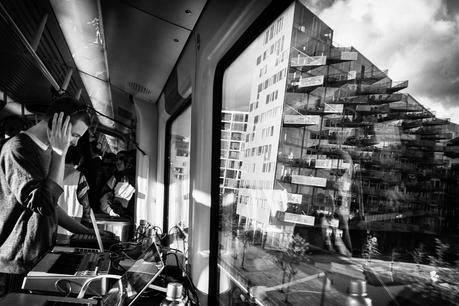 2012. Trans Metro Express, live electronic concert on a moving metro train at the amazing Strøm festival. Probably by now my most famous image. Has been used in a book and exhibition about Danish music photography, and at a massive 3 meter print at a street exhibition. A mixture of planning and pure instinct, high on so much excitement of shooting these gigs for the first time. Still very proud of this one.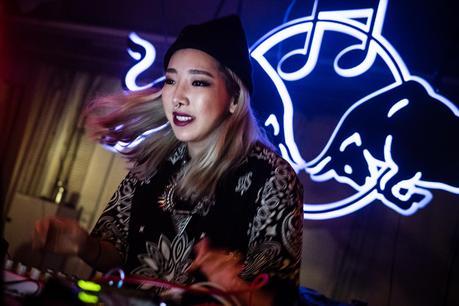 2014. Tokimonsta playing at Distortion, RBMA stage. Faster than the eye could follow, she played an amazing live set, juggling so many things so fast. Somehow I caught this perfect moment of her head being still with the rest in movement.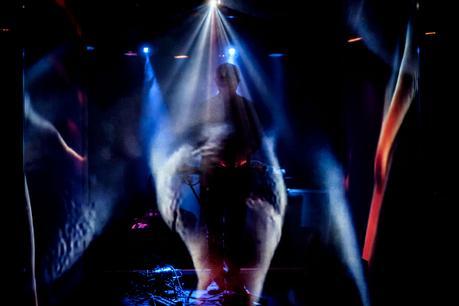 2014. Unkwon in the KUBE at Pumpehuset. He is in there, buried in trippy 3D visuals. I love music pictures that are not obvious music pictures, but something more. Always gotta add more.
§
There are so many people I owe thanks to, nothing in this portfolio could have happened without them. Especially Åsmund Kverneland (Copyflex), Frederik Birket-Smith (Strøm, Ohoi!), everyone at Red Bull, Trailerpark, Fujifilm Nordic, AV AV AV, Courtesy, The Minds of 99, Jens Rumpistol, and so many more. First and foremost of course, to the magic one in my life, Charlene.
¶
Nerdy note: All pictures captured on Fujifilm cameras with Fujinon lenses.