I'm asking myself...
Is this a classic British dish?Or a French or any European dish?Nay! I think this is simply a classic Gordon Ramsay dish. If you search the words, "sticky lemon chicken" in Google, all you can find are links at Life Style Food, Rachael Ray Show, Red online, You tube and Food.com and they are referring to the same dish... Gordon Ramsay's sticky lemon chicken!Since I'm cooking almost everything Gordon Ramsay this month, I like to cook this exclusive Gordon Ramsay dish...Gordon Ramsay!!! Love him or hate him... He is the famous Scottish celebrity chef, restaurateur, and television personality who gains most of our attention because of his extensive use of foul language on TV. Due to his "always-angry", "always-seeking-perfection", "always-alert" and "always-energetic" personality, Gordon Ramsay stands out for being an interesting TV host in many competitive cookery and food TV programs, such as the British Hell's Kitchen, The F Word and Ramsay's Kitchen Nightmares, and also the American Hell's Kitchen, Kitchen Nightmares, MasterChef, and Masterchef Junior. According to Wikipedia, Gordon Ramsay's restaurants have been awarded 15 Michelin stars in total and currently hold 14. His signature restaurant, Restaurant Gordon Ramsay in Chelsea, London has held 3 Michelin stars since 2001. Wow!!! Sadly, I don't have a chance to dine in these restaurants but at least, I can try cooking Gordon's recipes at home.Loving or hating Gordon? I'm very honest here saying that I like Gordon Ramsay because I really enjoy all the drama that he creates with his "angry" personality. I don't particularly love him but definitely not hating him. The curious me had asked my loving-cooking brother the same question too and he said that he likes Gordon Ramsay! He also mentioned that he likes Gordon Ramsay more than Jamie Oliver because he prefers Gordon's clean, quality-seeking, professional and precise approach of cooking rather than Jamie's homely, rustic and relaxed style of cooking. Gordon or Jamie? Oh! I must say this question can start a never-ending series of debate among some people... Personally, I think that the answer is up to each individual accordingly to our expectation. I like to be diplomatic here saying that I like both of them in their different ways.So, this is how I cooked and appreciate this exclusive Gordon Ramsay recipe...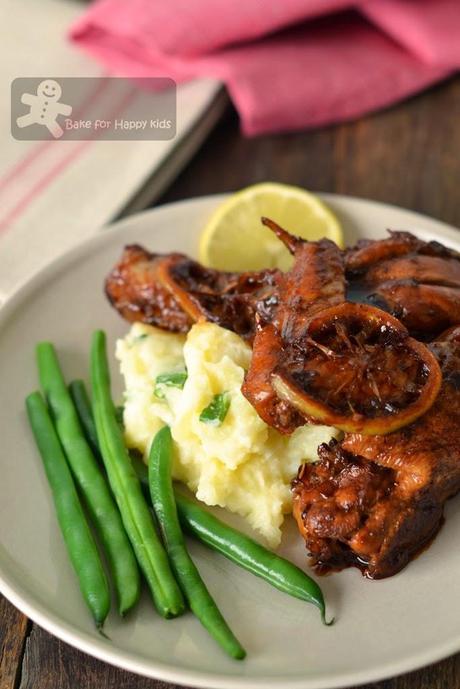 Gordon Ramsay's Sticky Lemon Chicken with Champ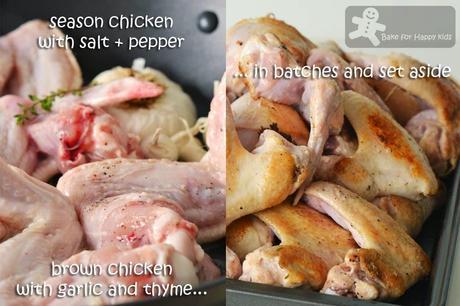 To start, I need to brown the chicken.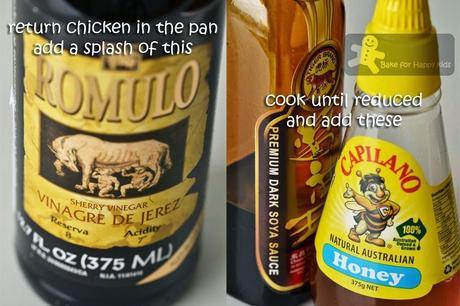 Next, I did this...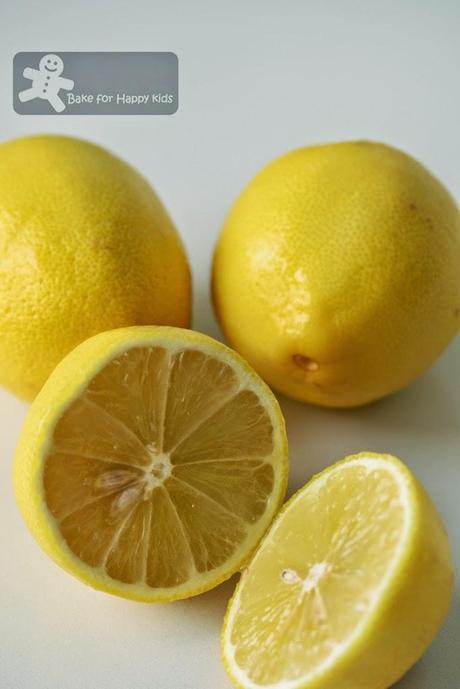 Pour in some hot water and add lemon slices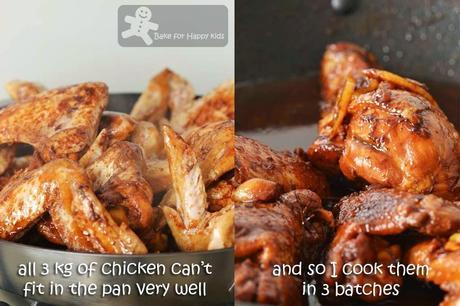 ... and cook until the chicken is well-infused in flavours.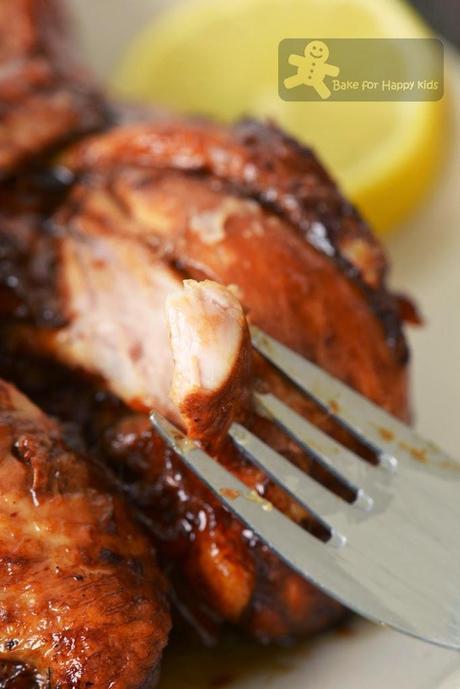 See!
In this recipe, Gordon Ramsay recommends serving the chicken with champ. Champ? Accordingly to Wikipedia, it is Irish way of eating mashed potatoes with spring onion... and this is how I made mine.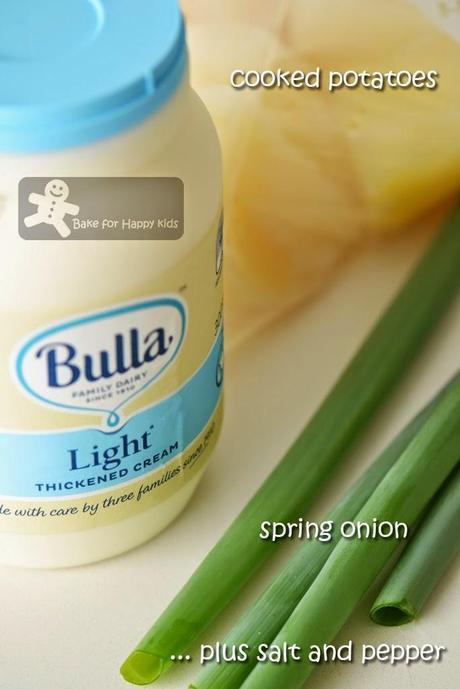 These are all I need.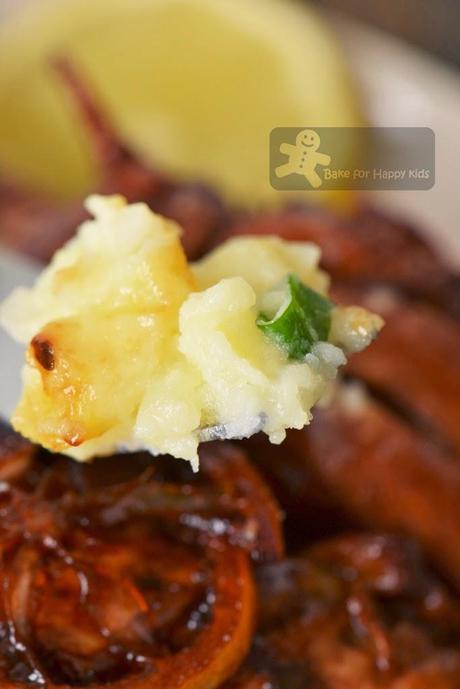 Yum!
After cooking and enjoying this dish, I have learned a few things:
1) Gordon Ramsay is also an agak agak man! LOL! Agak agak means estimation in Malay language. If you asks most mothers or cooks from Southeast Asian countries some details of cooking, they will tell you agak agak! I got lots of this sort of answers from my grandmother and aunties. In this recipe, Gordon didn't specify the amount of added vinegar and water. I guess the addition can be subjective to taste and preference. Hey Gordon! Nice agak agak! You might wish to know I can excel with good agak agak skill like yours too! - LOL!
2) We prefer cooked chicken more without the skins!
Boy: Mummy, these chicken are fatty!!!
Man: Can you roast the chicken for crisper skin?
Well... Being mum, I have to agree with my husband and child because they are the most faithful "customers" that I serve... LOL! Eventually, I have roasted the chicken at 180°C fan forced for 10 minutes on each sides and both my husband and son said that they like the roasted chicken more than the un-roasted ones. Maybe, this is our personal preference... I wonder. My husband put the blame on Aussie-sold chicken saying that the Aussie chicken are more fatty than the Asian-sold ones... Seriously, I don't know! Knowing this, I like to cook mostly skinless chicken in the future. Anything with skin is preferred to be roasted...
Here's Gordon Ramsay's recipe from Life Style Food with some agak agak.
(I have incorporated my notes in blue)
To cook the chicken:
1 large chicken jointed into 8-10 pieces 
(I used 2 kg wings and 1 kg drumstick)
sea and freshly ground black pepper
3 1/2 tbsp olive oil
1 head garlic halved horizontally
few sprigs thyme
sherry vinegar
(I used 1/4 cup)
2 tbsp dark soy sauce
(I used 4 tbsp)
3 tbsp honey
(I used 1/2 cup)
1 lemon finely sliced
(I used 2 2/12 lemons)
flat-leaf parsley chopped
(I forgot to add this)
Season the chicken with salt and pepper and heat the olive oil in a large sauté pan. Brown the chicken pieces (in batches if necessary) over a high heat with the garlic and thyme for 2–3 mins on each side until golden brown. Return all the chicken to the pan, add the sherry vinegar and bubble until reduced by half. Drizzle over the soy sauce and honey and shake the pan to mix.
Pour in a good splash of hot water and add the lemon slices. Let the liquid bubble and reduce down until syrupy, which will take about 10 minutes or so. By now the chicken should be cooked through.
Note: After adding the lemon slices, the chicken were cooked in 3 batches and each batches took me 15-20 mins.
This amount that I cooked can serve up to 8-10. Due to our preference, the leftover chicken without the sauce were grilled 
at 180°C fan forced for 10 mins on each sides.
To cook the champ:
1 kg floury potato e.g. King Edward, peeled
sea and freshly ground black pepper
30 g butter
(I didn't add this)
spring onion (about 6–8), trimmed and chopped
100 ml double cream
(I used the light ones with 18% fat)
100 ml whole milk plus extra if needed
Cut the potatoes into similar-sized chunks and boil in salted water for about 10 mins, until tender when pierced with a small sharp knife. Drain well.
Mash the potatoes while still hot, using a potato ricer if you have one, then stir through the butter
(I didn't add this)
and spring onions.
Pour the cream and milk into a saucepan and bring just to the boil. Take off the heat and gradually pour on to the potatoes, mixing well. If the mash is too thick, add a little extra milk. Season generously.
Transfer the chicken to a platter and sprinkle over the chopped parsley
(I forgot to add this)
, serve with the champ and green beans.


Using half of the amount, I have made enough champ to serve 3 persons.




Happy Cooking


This post is linked to Cook like a Star (Gordon Ramsay) organised by me, Bake for Happy Kids, Yen from Eat Your Heart Out and Mich from Piece of Cake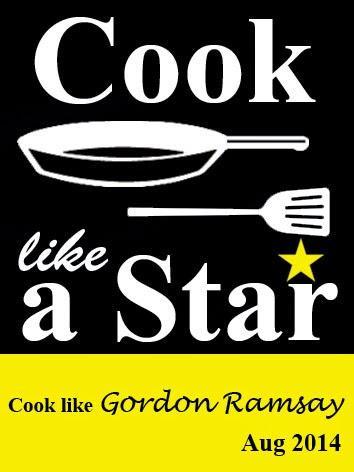 Wanna cook or bake like Gordon Ramsay? To join, simply cook or bake his recipes from websites like LifeStyle Food, BBC GoodFood and Channel 4, or his cookbooks and link with us at this Zoe's, this Yen's* or this Mich's* post for the whole of Aug 2014.
* I will update the link as the event progresses.
To use this linky tool, please make sure that: (1) Your post must be a current post. (2) Please mention Cook like a Star in your post and link back to us at Zoe from Bake for Happy Kids, Yen from Eat Your Heart Out and Mich from Piece of Cake Cheers! For more details, please see this.
Here are my blogging friends that have joined me cooking for this event. Please visit their blogs for more of their 5-stars cooking.