Rock music's Gold Dust Woman is perhaps one of the most visually descriptive artists. Listening to her lyrics is like listening to the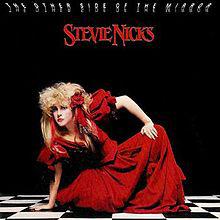 likes of great writers such as James Joyce, C.S. Lewis, John Keats, and John Steinbeck. Couple that with the overall sound of Stevie Nicks and you have the American answer to the British Kate Bush – albeit with a lower vocal range and an edgier sound.
Stevie Nicks' 1989 release The Other Side of the Mirror is a return to the sound that made her a great solo artist. Gone are the cheesy 80′s synthesizers, producer Jimmy Iovine (with whom she had a relationship with sometime during the making of Bella Donna and The Wild Heart) and cocaine that defined her 1985 release Rock A Little. Here, Nicks returns to her roots, but this time takes a bit more of an adult approach. She proves this on Rooms On Fire, which is a more grown-up version of The Wild Heart. Nicks has stated that the song "is about a girl who goes through a life like I have gone through, where she finally accepts the idea that there never will be those other things in her life. She will never be married, she will never have children, she will never do those [that] part of life."
Many of the tracks are nothing short of beautiful. One prime example of this is her duet with Bruce Hornsby of Bruce Hornsby and the Range on Two Kinds of Love. One of the greatest aspects is the harmonies with both Hornsby, Nicks, and her ever-present backup singers Lori Perry-Nicks and Sharon Celani. However, Nicks returns to the rock sound that we know and love hearing her sing with the down and dirty rocker Whole Lotta Trouble.
Nicks also seems to take slight cues from her peers on Alice – a song about Alice from Alice In Wonderland. (which is the theme of the overall album) However, the overall sound seems a bit inspired by the later works of fellow rocker Pat Benatar. However, there is interesting little surprise on this track: Kenny G on tenor sax.
However, one part does get a little spooky. On Doing The Best I Can (Escape From Berlin) speaks of life after an abusive relationship. But it works well for the album.
This album is probably one of the more underrated gems of Nicks' career. However it is still worth investing into because this is alot like reading a book at times.