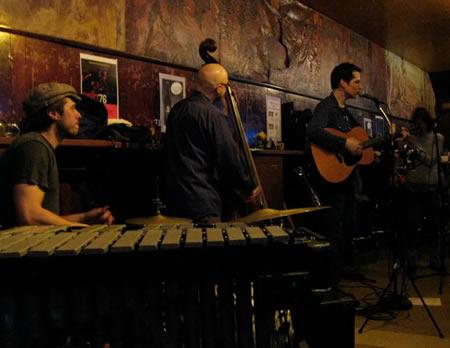 Listening to the Live at Simon's is like being invited for a time machine ride to a birthday party that already happened. Guitarist and singer Steve Dawson set up at Simon's, a small neighborhood bar in Edgewater, Chicago, on April 5th. He had invited few jazz cats to help him with this birthday show. Jason Adasiewicz (vibraphone), Jason Roebke (bass), Frank Rosaly (drums), and Diane Christiansen (harmony) made it memorable night, playing a selection from his two solos albums as well as a couple of loose jams, such as the bluesy A Pizza for Freddie and Worry Worry Worry.
The set was recorded live by Chandler Coyle, who did an excellent job. All instruments are well balanced and Dawson's vocals are captured in a such a way that he is sitting right in of you. Which is what did at the tiny bar if your were there.

Live At Simon's is a self-released album. Buy it from his website.
Tracks:
Tender Loving Care
Love Is A Blessing
I'll Be Right Here
Waiting
A Pizza For Freddie
Mastodons
Shirt Bag (Plastic)
It's Not What You Think
Skirt Steak, Man!
Worry Worry Worry
HCTF review of I Will Miss The Trumpets and the Drums.