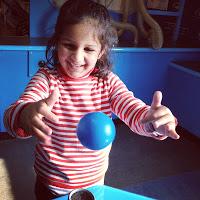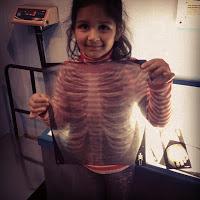 I'm not really sure why the owners decided to use the world Museum in the name, since Stellar Children's Museum is anything but that. It's more of an activity center, or better yet a learning center with a hands-on-approach to everything.
A General Admission Fee of Rs. 300,- per person (adult or child) gets you inside into an area divided into 8 zones each having different activities that provide an equal dose of enjoyment and learning for children. During my visit with my daughter, six of the zones, i.e.; Invent It, Build It, Discover It, Live It, Create It, and Splash It, were operational. The Explore It section which requires an additional payment of Rs. 100,- was still under construction and the Theater is only open during special events which once again cost extra. Besides the above there is also a Cafe, clean Restrooms and a Baby Room, and a gift shop which was yet to be opened.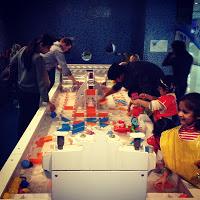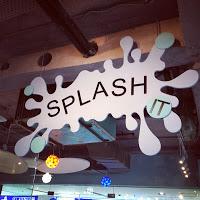 The Stellar Children's Museum (SCM) situated on the Second Floor of Ambience Mall at the Delhi-Gurgaon Border Toll Plaza, is certainly a one-of-a-kind play area in the Delhi NCR region. Staying away from the popular culture of video/coin-games SCM emphasizes the importance of kids learning through "active experiences". While Invent It focuses on the power of wind and velocity, Build It gave me a chance to build a formula one car while my daughter built herself a cardboard castle. Live It is a lovely reconstruction of a society letting kids the opportunity to role-play being a doctor or a cook or a school teacher. Each zone has its own specialty, but there was no denying the fact that most kids were attracted to Create It and Splash It, since both these zones allowed them to have some fun with water in their own unique ways.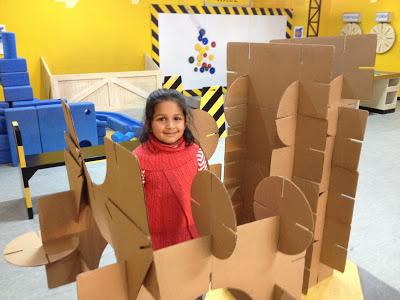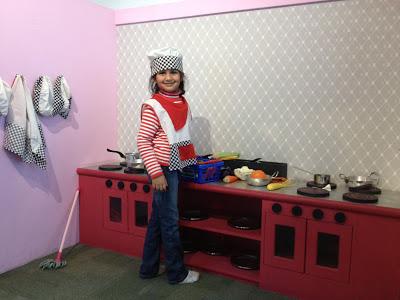 Stellar Children's Museum is a positive step towards getting children active again and making them enjoy physical games. Being in an enclosed area makes it available throughout the year, and for once I am okay with the idea of people having birthday parties on location, which is the new trend these days. It is a great opportunity for learning, but that certainly is not the only aim of the entire setup. SCM works well for ages up to 8-10 years. While the really young can simply explore the colours and the sounds, someone like my daughter who is 5 was able to play, experience, and understand most of the activities. The science behind it all works well for the slightly older kids, between the ages of 8 to 10, and that's when and where the real learning takes place.
While at present the Stellar Children's Museum is an attractive diversion for the kids from the done-to-death games and rides, there are a few recommendations that I have for the place;
1.
Keep on Changing: The problem with activity centers is that after a while they become monotonous. I am aware that there are shows that happen from time to time, but the main zones will remain the same over the years. Therefore, I do hope that certain activities within the zones change after some time; else people and especially children tend to lose interest in them. For now though, I feel I can probably take my daughter a few more times.  
2.
Admission: I am not quite sure if there is a limit to the number of children and adults the SCM allows before it stops further entry. When we visited the number of people in the area was just right. Enough to make the place look neither deserted nor overcrowded. While having a few children is always good, since the staff can give more attention to every child, the worse would be over-crowding the place. Another aspect to keep in mind would be not having birthday parties alongside outside visitors, which in my opinion creates too much of a mess.
3.
Membership: While SCM has a yearly membership scheme, I personally wasn't sure how beneficial that would be to the customer. As a business it guarantees repeat visitors, and advance payment, but as a customer limiting my kid to the same place would not be advisable especially with her every changing mind.

4.  Fee Structure: I had to come back and update my post since apparently the fee structure has once again changed, for the third time it seems. When earlier it cost an adult + child a total of Rs. 600,- to enter, the same will cost Rs. 700,- since they have increased the entry ticket for children to Rs. 500,- (up by Rs. 200) and reduced the fee for adults to 200,- (down by Rs. 100). I have to say I am a bit disappointed with this and clearly in the long run this will prove to be problematic. I would however add that the cost of 2 Adults and a Child will remain the same at Rs. 900,-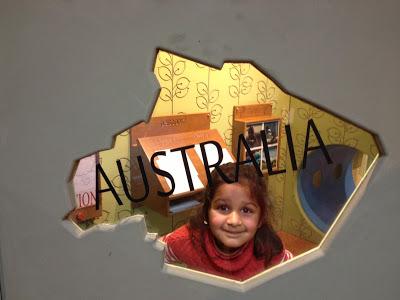 Top 5 reasons why you should visit Stellar Children's Museum


1.

  

Bonding: It's a great place to spend time with the kids. Mixing a bit of fun with learning, I would recommend the parents to go in themselves and enjoy going through the different zones with the children and helping them maybe even learn a bit in-between all the play.


2.

  

Variety: The best aspect about Stellar Children's Museum is that it keeps the children active and their minds working at all times. Whether it is role-playing, building, or just simple water fun, children have various activities that they can explore and enjoy. This variety somewhat adds to the fun as they go from one area to another experience something completely different and new, thus keeping them interested. 


3.

  

Neat and Clean: The entire place was clean and with hand-wash gels at every corner it showed that the owners were concerned about the general cleanliness and health issues, which we all are in case of children especially. It also shows a certain interest on the part of the owners that goes beyond making money, which is always good.


4.

  

Administration: So far the administration at SCM was wonderful. I saw the owners run around making sure everything was in order. The staff was trained and eager to help and play with the children and explain the different aspects of the center. Provided they can keep up the same enthusiasm and interest, I think they have something good going for them.


5.

  

Location: As much as I would love to have a learning center away from a mall, I am happy to say that having it in the mall makes visiting it much easier. Furthermore, it saves spending unwanted money on places that have games played to win tickets which are exchanged for what can only be termed as junk. So, having SCM at Ambience Mall is presently a good idea.  




Details:

Stellar Children's Museum

2nd Floor Ambience Mall

NH-8 Highway, Gurgaon




Tel: 0124-4665373

Web: www.stellarchildrensmuseum.com


This is an unsolicited review.