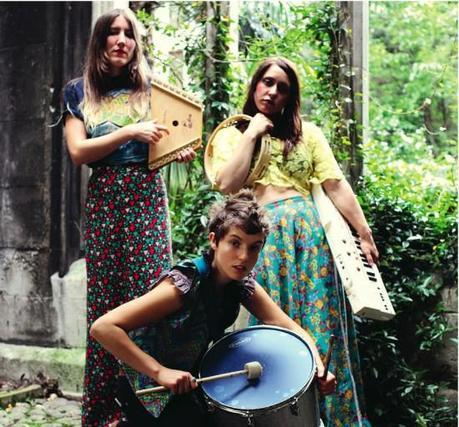 Stealing Sheep (@stealingsheep), an all-girl trio from Liverpool, is not your average folk band. Their sound centers heavily around thick, smooth harmonies, yes, and they employ primarily organic instruments, but they do it all in an incredibly peculiar, stunning way. They like to call their style "psychedelic folktronica," and I guarantee it'll have you swooning.
The band's debut LP, Into the Diamond Sun, came out earlier last month on UK label Heavenly Records, but the ladies of Stealing Sheep have been releasing singles and EPs here and there on Bandcamp for the past two years, gaining them quite a following (myself included). Into the Diamond Sun is a colorful, generously textured work. It's a perfect mix of lighthearted gauze and intriguing creepiness. These two factors come together to make the album sound almost like the soundtrack to a dream sequence.
I could talk for days about all of Stealing Sheep's idiosyncratic, knickknacky sounds, their eclectic, hazy instrumentation, and the girls' simple, graceful voices, but I'd rather you listen to their single, "Shut Eye", watch their phenomenal live performance below and find out for yourself.
Stealing Sheep kicks off a tour with fellow Brits (and house favorites) Alt-J in late October.