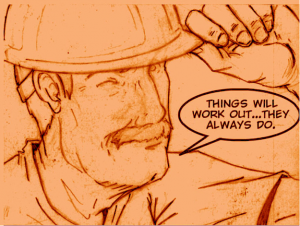 The first Blue Collar Workman guest poster ever, Ronald Curell
Today is the very first Blue Collar Workman guest post!
The story below is written by Ronald J. Curell. Ron is retired, and is a carpenter, father, hardware worker, and grandfather. You might recognize him from the comments he's left on the site. Be sure to stop by the comments at the bottom and let him know what you think!
In my younger days I would meet my rider for work at the local coffee shop, you know the place where men gather to solve the world's problems, the floors are a little dirty you can drink endless cups of Joe. Local coffee shops are not as plentiful as year's back — one reason may be the rise of what we all call big box stores. The shops that are the same from one town to the next and maybe one of the reasons our country has lost some of its personality, less mom and pop shops.
One that comes to mind is Starbuck's — now I have nothing against them I just don't frequent them, shops like that make me feel like they want you to get your stuff and get. No refills, no sitting, no problem-solving, just go. I cannot give an up or down to the place for I have only been in one once, but it left a suspenseful tale of intrigue and an expensive cup of coffee.
It was a cold February about ten years ago and we were working on a mall job down in the city that had no heat. The cement floor was poured on the site but we were working on the opposite side of the demising wall, this area was not rented out and the floor was still dirt. This made it hard to push a scaffold around so we had the companies four wheel drive lift to work off. The lift had a gas motor and a deck that was about 10 feet by 12 feet, and could go 30 feet in the air.   We had been working all morning in the cold and the lift needed to be restocked with board, so my fellow carpenter and I decided to stop for coffee and get warm.
Most of the time I carried a lunch and thermos with me but today we would splurge and go sit with the D.I. N. K.s at the Starbuck coffee shop. DINKS, Duel Income No Kids, not a hammer swinger amongst them. We entered and it was warm, we had way too many layers of clothes on and got a few strange looks, I don't remember what the coffee cost but I remember it was high.
Like I said the job was a new mall going up and there were several new buildings but none had heat, most did not have sidewalks poured yet because it was early on in the project, but for some reason the coffee shop was up and running.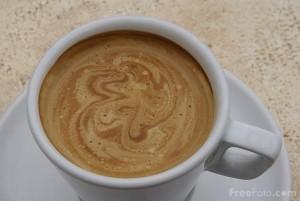 And you thought a quick cup of joe would be uneventful….
After our fifteen minutes were up and we were sweating right down to our long johns, we returned to the job. Upon opening the temporary plywood doors, we saw the lift was gone. We checked with the election, plumbers, and tin knockers on the job and no one saw it leave. Back over to the area we were working and following the tracks that lead out the back of the building and then merged with the mud and snow in the parking lot. I was starting to worry; we jumped in my truck and drove around the whole complex, not a lift in sight.
We stopped at several jobs and asked but no one had seen the thing. Then I made the hardest phone call in my life. "Boss we lost the lift."  "What?", more like "WHAT?" Then I told him all that we had done to find the thing, "Did anyone load it on a trailer? Why didn't you take the key with you? Get in your truck and drive around and find it, check the freeway see if it's on a trailer check the tracks find it."
We continued to look but to no avail. "I'm calling the police," the boss said when I called back to check in with him. Over an hour had passed and we returned to our job but the lift had not.
Standing on the sidewalk I saw a police car coming in the parking lot.  At the same time I noticed about four buildings down a set of double plywood doors, no sidewalk in front of them but a couple of planks laying in the dirt. I told the other guy, "You talk to the officer, I want to check that building one more time." Like I said the sidewalk was not poured but there were workers getting it ready and most likely the cement truck was on the way. I walked into the job site and there on our lift was a worker stuffing insulation in the wall.
"What are you doing?" I asked.
"Insulating," he said, indifferent.
"Yeah but that is our lift."
"Oh, I asked and the guy on the job said I could use it."
"Wrong, we are using it so take it back."
"Yeah, right" he scoffed as he returned to work.
"I said take it back right now." He was much bigger than me and I am not sure who was madder but I had an ace in the hole. "You need to take it back where you got it right now."
"Like you are going to make me, I will take it back when I am done."
"No I don't think so, I think you will take it back now, if not you can talk to the police officer just outside."
This caused a little stammering and his reply was. "I take it right now."
"Right you will and then you still can talk to the police."
He drove it back and went and talked to the officer, we went back to work after two lost hours.  Later I learned that our boss was paid by the other company for lost time plus some.
I have never had coffee in Starbucks again, but I always take the key out of the lift.
Photo credit.