Combining BBQ, beer, country music, and horse racing is a fantastic idea – and we're glad that the people at Ajax Downs had it.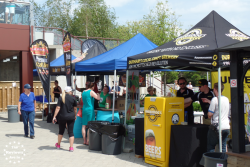 Steak Stock took over the grounds on Saturday and Sunday, bringing with it a bunch talent, tastes and chances to check out things we love – and wanted to love. Going into the event we knew that Manantler Craft Brewing (Bowmanville) was a winner, and we thoroughly enjoyed a few samples of The Citra Situation while also taking the chance to check out…
‣ Brock St. Brewing Company (Whitby)
‣ Underdog's Brewhouse (Oshawa)
‣ The Publican House Brewery (Peterborough)
‣ Shiny Apple Cider (Niagara on the Lake)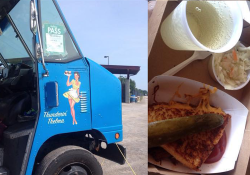 And because we were there all day Saturday and Sunday, we had to eat. So shout outs to Caplansky's for the brisket tacos & grilled cheese with brisket, and to Jimmy Guaco's for the nachos (pulled pork) and quesadillas (steak). If you see these food trucks, line up – and make sure you get napkins because you're going to need them!
When we weren't eating and drinking, and sometimes when we were, we spent Saturday listening to a whole bunch of pretty great live country music.
With a lineup of Livy Jeanne, Kaitlin Kozell, Lindsay Broughton, Cold Creek County, and headliners Autumn Hill – we had a lot of great moments.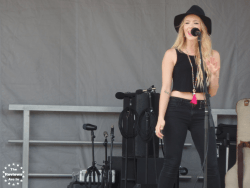 It was the 1st time we'd had a chance to see Livy Jeanne up on stage, and we're glad we finally got it. She put on a sweet little set with the help of her guitar man, which included the title track of her brand new
Dashboard Renegade
record, her first ever single
Invisible
, her current single
All Kinds of Crazy
, another fun one in
Wrong Side of the Dirt
, and an awesome little medley of I Want You Back – You Shook Me All Night Long – That Don't Impress Me Much – Hot and Cold & Royals! We can't wait to catch up with Livy again at Boots & Hearts in a few weeks.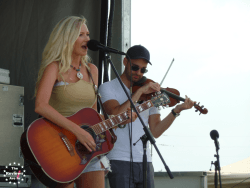 It was also awesome to see Brooklin girl and CCMA Rising Star nominee, Lindsay Broughton hit the stage on Saturday. The last time we caught up with Lindsay was at the CMAO Awards, and it was great to see her in action. She treated the mid-day crowd to a mix of covers and her own singles which included,
Trouble With You
,
Cold One
(Eric Church),
I Can Do Anything
,
River Wide Enough Song
,
Take Me There
,
Born To Be Wild
(Steppenwolf),
Holdin' On To You
,
Now You Don't
, and a medley of Mama's Broken Heart – Cruise – Downtown & Trouble.
It's awesome to see local talent thriving, and Lindsay is doing that with a huge summer so far.
After a fun set by the 6 dudes that make up Cold Creek County, we got to the headliners of the evening, Autum Hill.
Mike and Tareya are Juno and Canadian Country Music Association nominated as Autumn Hill, and with their 2nd record, Anchor now available, things are looking really good. They recently charted their first Top 5 single with Blame, and last Wednesday picked up a Duo or Group of the year nomination for the 2015 CCMAs.
On Saturday the duo gave the audience everything they were hoping for with a mix of songs from their 1st record, Favourite Mistake, and the new…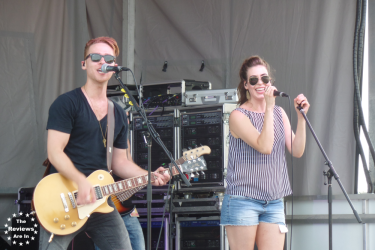 ⚓ Anchor
⚓ Good Night For Going Nowhere
⚓ If She Wants This Town
⚓ It Don't Get Better Than This
⚓ Fire
⚓ Mix Tape
⚓ Return Policy
⚓ Can't Keep Waiting
⚓ Anything At All
⚓ Blame
⚓ Memphis
Sunday brought us back to the track for more food, more beer, more music – but also live quarter horse racing!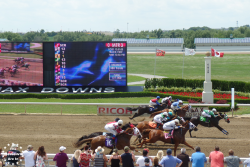 And while we didn't come out the big money winners we hoped we would, it was a whole lot of fun to read the sheets, watch the odds, place some bets – and cheer on the horse when they came to the finish line!
High fives to Casey Spencer, Jack Connolly and Sawmill Road for playing before, between, and after the 7 races of the day. The stopping and starting mini-sets were a little different than we're sure they're accustomed to, but they handled it well for the crowd.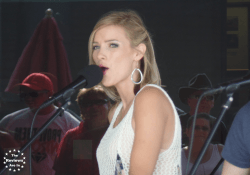 And after a bout of thunder and rain that shut down the stage area, we were treated to a more acoustic, stripped down set from Sunday headliner and Uxbridge local, Leah Daniels.
Leah has been on a tear lately with her first Top 20 appearance thanks to Go Back, and steady video and radio play of her current single, Dream Without You.
She also picked up a CCMA Rising Star nomination last week, so she is definitely riding a little high right now. Leah put on a fun little set, interacting with an adorable 4 year old who danced up front, and then stole hearts when she sang her own little song. But it was when Leah Daniels had the mic, she was in control. Belting out big notes, stellar yodelling, and huge smiles, she won new fans at Ajax Downs, and made the fans who were there for her happy.
Steak Stock 2015 was a bunch of fun – with a little bit of something for the whole family… and we're hoping they bring it back again in 2016 with more music, more BBQ, more beer, and more horse racing!
Here, check out some more pics…