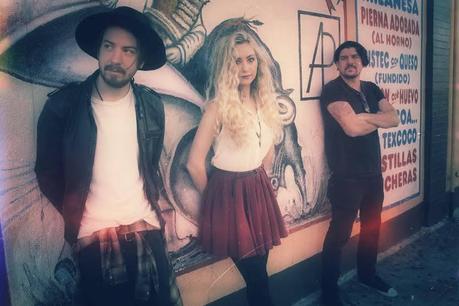 A few years ago, if I were to ask the question, "What do you think DWNTWN sounds like?", most Australians would have answered, "Who is DWNTWN?" and potentially, "Why are you in my house?". But after a significant amount of explaining and listening to their music, I'm almost 100% sure it wouldn't be the same answer as it would be today. As cliche as it might sound, in the years since that confusing time the Los Angeles based outfit have done a lot of growing up, musically speaking. For starters, their latest releases Til Tomorrow and the more recent Missing You, were both certainly an impressive shock, fruitful with folk undertones and affirming lyrics, stifling their electronica upbringings in place of something more tangible to them, both metaphorically and in their live shows.
On the other side of the fence (AKA the hardships of being cool, popular people in bands), it turns out vowels aren't the only thing DWNTWN don't subscribe to. With their latest self titled EP due to grace our ears in just two days time we're certain they're on the cusp of something pretty special. Whether it's critical acclaim, fame and fortune or just that foot in the proverbial door, DWNTWN are doing a phenomenal job of staying their good old golden selves in the process. Before they almost certainly hit it big, we were lucky enough to hear from front-woman and straight up legend, Jamie Leffler about the new tracks, the old hats and most importantly, being weird in a cool, cool world.
Did you choose the name DWNTWN because PTWN just didn't have the same ring to it?
Yeah, not quite the same is it? "Uptown" sounds like too nice a place, like Beverly Hills or The Hamptons and those places scare us. But really Robert came up with the name because our group of friends is called the "Dream Team" and he wanted to use the DT initials in our name. DWNTWN just seemed to fit us.
For some reason, from the first time I heard you guys it's always been super clear that you're based in LA. What do you think it could be about DWNTWN that screams Los Angeles?
That's funny, because honestly I don't feel any real connection between our music and LA. I think because we have lived here our whole lives we don't really realize how much this city influences us. If we moved away for a while it would probably become clearer.
There are some obvious differences musically between Til Tomorrow and your previous work. What do you think changed in the song writing process when you were writing the new EP?
We thought a lot more about how we could play the songs live for this EP. Robert only feels comfortable playing guitar on stage and our earlier music had hardly any guitars in it, so when we started working on new music he made it a point to write in a lot more for him to play live. Incorporating more guitars also led to us to show more of our folk influence by using banjo and slide guitar on a couple songs.
It's been two years since your last release. Aside from the songs, what's new about the upcoming EP?
It's definitely a step away from what we have done before. We are still making everything in our bedroom, but I definitely feel like we are growing. I wanted to avoid writing so much about relationships for this EP, so there are a couple of songs on subjects I have never approached before. One is for my grandpa who passed away, and the other about my dad, who died of a heroine overdose. We also got inspired by our friend Nick Egan to make our own album art for this EP.
 I hear you've also got some cool collaborations coming up? Can you tell us more about those?
Ya! One just came out with Futurecop! (the exclamation mark is part of their name, don't think I'm crazy), it's called "Lost Love". We had been fans of Futurecop! for a long time and we were stoked when they asked us to work on this song. Another one is with Something A la Mode, called "On My Mind". We wrote the song about a year ago, and when we visited Paris last year we got to meet them. They are the NICEST guys ever. We drank wine and learned how to curse in French.
Robert always seems to be wearing that killer wide brimmed hat. Is it the same one or does he have a collection of identical hats?
He's gotta build a collection! So far it's just the one trusty hat. I think it might actually be an Australian cowboy hat, we got it at this weird cowboy store outside of LA. Everything was embroidered and sequined, I low key wanted to buy everything there and start dressing like Patsy Cline or something.
You've been snapped in bingo halls, car parks and everywhere in between having a cheeky beverage or two. Where is your favorite place to sink a few cold ones?
Anywhere outside, preferably a parking lot or somewhere with a nice view of the city. It's tough finding bars we like in LA because (a) they are too expensive and (b) everyone is so cool… like too cool. Our keyboardist Chris recently started working at a trendy spot, and it's actually been fun going there and getting handed free beers and getting to just stand in the back and watch everyone. We love watching people be weird… although maybe we're the ones being weird, Haha. The last time we were there, this awkward dude was there all alone trying to dance with girls, and we had the greatest time just watching him go for it. Robert should have danced with him, he seemed like a nice guy.
If you could pick any venue in any city in the world, where would you most like to play and why?
The Gorge at Sasquatch. It's got to be one of the most beautiful places in America.
Perhaps the most important question of all. What would it take to get DWNTWN to Australia?
An airplane.
…of course.
The single Til Tomorrow is available on iTunes here: http://bit.ly/TilTomorrowiTunes
If you're lucky enough to be in California or New York right now, check them out live at any of the following venues: http://www.songkick.com/artists/4752693-dwntwn