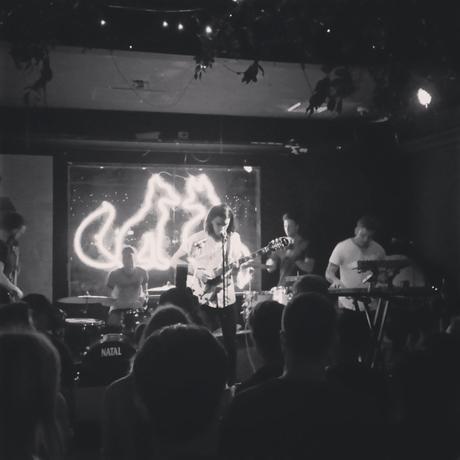 This article first appeared on The AU Review.
It's no secret. Sydney has been extremely good to indie bands and fans of the genre in the past few years. I have no idea where it came from, but acts like Hungry Kids Of Hungary, The Griswolds and Jinja Safari are just a few of the names that come to mind when I think about the huge ground-swell that surfaced, and has shown no signs of stopping. That's what brings us to Rare Finds #1, a new indie club that launched last Friday at Enmore's Sly Fox. Seems like a simple concept, right? Sydney loves indie, Sydney should have a dedicated indie night.
As the first band began setting up, the flaming red neon foxes behind the stage glared eagerly at the crowd, lighting the floral decor spanning the roof. Sounds like a wanky way to describe the interiors of the Sly Fox, but I feel it's necessary to set the scene for this one. This is no dingy cavern where the bands and fans are stashed away in the back room like the IT department. It's a pretty stylish dig for this part of town.
The night kicked off with a laid back set delivered confidently from seasoned support act Winston Surfshirt. Their unique take on the genre is hard to peg, but brilliant to watch. Zoning in on the deep, grumbling trombone like most punters would, you'd maybe say it's like if a brass band decided to do wicked covers of funk or hip hop. Their smooth licks set a surefire "cool guy" tone for the night, bouncing off silky falsetto vocals here and there while somehow coming across a little sinister. I'd say the best thing to do when you check out Winston Surfshirt is not analyze it too much and just enjoy, as it's essentially fun as fuck.
Hedge Fund were up next, showcasing as the only one of the four acts actually on the Rare Finds roster. I'll tell you what though, the agents sure know how to pick 'em. Busting out in a fury of gritty, kind of 80's style new-wave; they were able to pump things up a bit and get the Friday night crowd ready for a big night ahead. The boys wailed from screaming highs to brooding lows throughout their set, always giving off a sort of suburban vibe in everything they did. The single "Look Who's Back", similar to a lot of the set, comes off almost physically confronting in a way. Not in a bad way, it's actually quite special. You really feel these guys when they play.
Yet another group of Sydney locals, Food Court appeared up next with their backyard punk, spraying the crowd with dirty rock anthems. These Sydney natives exhude the inner-city suburbs with everything they do on stage. I think they were even wearing the same clothes from the last time I saw them play in January. All in all, it's the epitome of punk in Australia.
The set glided on without a hitch, some of it sounding like the glory days of Greenday, but all of it lighting the way for a good thrash about, if only space permitted on the dance floor. Food Court have built up quite a loyal and enthusiastic following in Sydney, and it's no wonder why. Judging by the crowd reactions, there would be no volume that was loud enough, and they were rewarded with top notch singles blasting until the end.
To cap off what had been a grand night at that point, Jenny Broke The Window hit the stage in a blaze of fury, knocking down my personal favorite two tracks as the first songs in the set. "Rum N' Cola" and "See You At The War", although spurted out a bit prematurely in my opinion, bounced about seductively as a service to the crowd. Not a second was wasted and their smooth presence was noticeable as they played catchy as fuck tracks the entire time they were on stage. Mid-set, Jenny Broke The Window slowed it down with the latest single "We Could've Done This Grant", a chirpy and plucky tune that saw a bit of diversity hit the program and certainly boosted their musical creds. The recorded version is pretty sweet, but it takes a lot of talent to pull off such an awesome rendition live of such a well put together track and these guys nailed it.
By the later parts of the set, the dance floor is packed with people sharing that same euphoric state and not a single person looks ready to leave. They all know the same thing, we've found it. That indie night Sydney was screaming for. The one we all knew should have come so much sooner. It's here. By the looks of the line up of the Rare Finds #2 showcase, happening on 29th May at the same place, this was no fluke. If you're a band based in Sydney, this will be where you want to get a foot in the door.
Rare Finds #2 will feature Hey Geronimo, Sea Legs and Polish Club at the Sly Fox Hotel in Enmore on Friday, May 29th at absolutely no cost.