Maybe you've never heard of it. Maybe you've always wanted to see it. Or maybe you're just tired of the new. Whatever your reason, the classics are always worth a nod. In Stay Classy, we look some of the films that started it all and how they hold up today. So sit back while we reel through the past.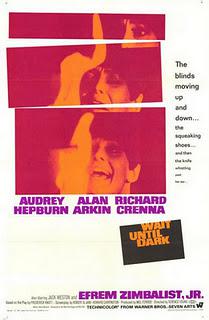 Photo: impaawards.com
WAIT UNTIL DARK
Year released: 1967 
How it fared back then: This Audrey Hepburn thriller, a huge departure from her standard, Roman Holiday, Breakfast at Tiffany's romantic drama fare, got mixed reviews from critics. They seemed to like the main concept - blind woman (Hepburn) has to fight off a murderous set of cons (including Alan Alda!) who are after a heroin-filled doll that has been accidentally stashed in her and her husband's apartment - and Hepburn's performance. But they found the a bit too slow in getting to the eventual, now infamous climax, not quite living up to the Frederick Knott play it's based on. However, the Terence Young film nabbed Audrey an Oscar nomination alongside some seriously stiff competition including Mrs. Robinson herself, Anne Bancroft, and Faye Dunaway in Bonnie and Clyde. (She lost out to the other, unrelated Hepburn - Katherine for Guess Who's Coming to Dinner.)  
Why it's lasted: Audrey Hepburn's legacy still lives on strong with both baby boomers and their classic film-raised kids. Also, it's still being honoured by the modern cinephile community at large. AFI ranked it as #55 on their 100 Years ... 100 Thrills list. And Bravo named the ending the tenth Scariest Movie Moment of all-time. There was also a short revival of the play in 1998, with Marisa Tomei and Quentin Tarantino (!) subbing in for Audrey and Alan!
Classic moment: The aforementioned finale, which is hinted at in the title. Hepburn's Suzy finds middle ground with her male attackers by taking out all the lights in her apartment, engulfing them all in, you guessed it, the dark. As if that didn't sound scary enough, when it was initially released, theatres turned off all the lights fully (if you notice, they're usually still on, just awfully dimmed) when screening the film, making the already taut scene even harder to take.
Does it still hold up?
Are you still kind of totally afraid of the dark?
Considering this flick taps into one of the most universal, primal fears, it can't help but be an ongoing horror classic. Add in the stellar turns by Hepburn
and Alda, an
d you've got a absolute-
must rental.
Just make sure you make like the genius 1960s theater managers and let your lamps take a break

while you watch it.