Maybe you've never heard of it. Maybe you've always wanted to see it. Or maybe you're just tired of the new. Whatever your reason, the classics are always worth a nod. In Stay Classy, we look some of the films that started it all and how they hold up today. So sit back while we reel through the past.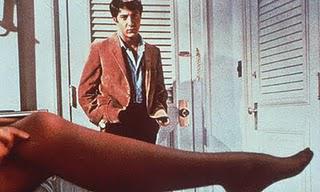 Photo: Embassy Picture Corporation


THE GRADUATE
Year released: 1967
How it fared back then: I suppose you could say the drama, which follows a young university grad named Benjamin Braddock (Dustin Hoffman) and his relationship with an older woman named Mrs. Robinson (Anne Bancroft) and her appropriate-age daughter, Elaine (Katharine Ross), came out at the top of the class,with honours. It was a critical and Oscar darling, not to mention a fan favourite. I think the soundtrack did pretty good too...
Why it's lasted: Everyone and their mom and her favourite movie critic seems to hold it near and dear to their heart for some reason. (Well, other than me. See: Does It Still Hold Up?) To this day, filmmakers and film fans continue to reference it, list it and make lengthy, pointed homages to it. (Two great examples? (500) Days of Summer. And of course, Wayne's World 2.) I actually can't think of a time when Ben and Mrs. Robinson weren't part of the zeitgeist. I mean, they even made an awful Jen Aniston rom-com centered around it!
Classic moment: It's a tie between the part when Mrs. Robinson, "tries to seduce" Benjamin with her cougar leg and the ending, which has Ben banging on the glass windows of a church with reckless abandon. Both are indeliable. And referenced beyond belief.
Does it still hold up? I have to admit, until recently, I didn't think so. I used to consider this my cinematic Catcher in the Rye - that infamous piece of work that, despite my best efforts, I will never be able to "get." But now that I've grown up a bit more, and have actually been in Benjamin's situation - I too am a self-conscious post-secondary school survivor wishing for some sort of future but not sure exactly what that future should be - I can see why it matters. Everyone has their in-between, find-out-who-you-really-are moment. Some of us look for solace in older lady love. Some look for it in chocolate and day-old chinese food. Some look for it in trips abroad. Some look for it in bargin bin horror movies and film blogging...