Maybe you've never heard of it. Maybe you've always wanted to see it. Or maybe you're just tired of the new. Whatever your reason, the classics are always worth a nod. Every Friday in Stay Classy, we look some of the films that started it all and how they hold up today. So sit back while we reel through the past.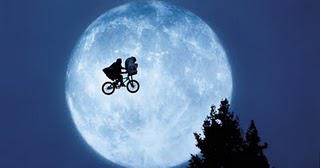 Photo: Universal Pictures

 (I love you, space man.)E.T.: THE EXTRA-TERRESTRIAL

Year released: 1982
How it fared back then: The Steven Spielberg directed masterpiece, which follows a young boy and his family after he befriends a loving but lost little alien, got off to a pretty slow start with audiences. It only garnered a standing ovation at the world's most fickle and famous film fest, Cannes, got nominated for nine Oscars and became the highest grossing movie ever (a title it held until Jurassic Park came out).
Why it's lasted: The effects still impress, perhaps even more so in the age of awful CGI. The acting, mainly done by child actors (including a very young, very adorable Drew Barrymore) is remarkable. The score still haunts. And the story? It couldn't be more timeless. I mean, when you look past all the spaceships and scary government men in astronaut suits, it's really just a tale of  star-crossed (literally) bromance. You can't help but feel right at home with the little wrinkly guy and his earthly BFF, Elliot (Henry Thomas). I mean, I remember hearing about this girl who would rewatch it so much as toddler, she broke the tape! She had an E.T. t-shirt too, which her mom had to wash after she'd gone to bed so she could wear it again the next day. For that fair-haired mini cinefille and millions of others, E.T. will always be right here. (Imagine I just pointed to my heart.)
Classic moment: THE WHOLE MOVIE. Seriously, though. It's perfect in so many ways. It's funny (E.T. hiding out in the closet, "Penis breath!"), scary (What's inside the shed!?), touching (Damn you, John Williams!), original and despite the alien activity, remarkably real (Did you know Spielberg shot most of this from a child's level, just to get in the same head space as E.T. and Elliot!? And that the kids' reactions during the finale weren't faked?!) There are so many moments to love - and rewatch to excess. But if I had to pick just one that is guaranteed to make your heart light up in the dark (and not spoil the magic for those who haven't seen it), it would have to be the flying bike scene, in which a basket-bound E.T. plays Peter Pan to Elliot and co.'s Wendys in an effort to escape. It's a dream come true for the child inside of all of us. Not to mention an indelible image, inspiring countless tributes and even a logo.
Does it still hold up? Does E.T. love Reese's Pieces? I mean, really. There's a reason this has been re-released multiple times. And that Universal still has a ride dedicated to it at both it's Florida and California parks (The Back to the Future ones ironically, only exist in the past.) And that Neil Diamond wrote the song, "Heartlight" (I'm not joking). If you need more proof look at Katy Perry and J.J. Abrams. The girl who kissed a girl , has dedicated a whole, very S&M-y song to the intergalactic superstar.  Or at least the inappropriate imagery his name can conjure up. And Mr. Abrams is releasing a movie that looks like a full-length homage to the film (but with mysteriously hostile, non-dress wearing aliens): Super 8. And guess who's on board with it? Mr. Spielberg, himself! I don't know about you, but this now fully-grown, t-shirt-loving girl's level of excitement for that movie is out of this world.