Maybe you've never heard of it. Maybe you've always wanted to see it. Or maybe you're just tired of the new. Whatever your reason, the classics are always worth a nod. Every Friday in Stay Classy, we look some of the films that started it all and how they hold up today. So sit back while we reel through the past.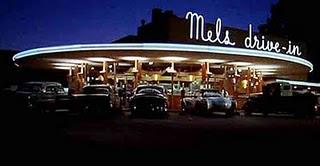 AMERICAN GRAFFITI
Year released: 1973
How it fared back then: This George Lucas-directed (Yes, that George Lucas!), Francis Ford Coppola-produced coming-of-age classic is considered to be the first summer box-office smash (Jaws, the usual title-holder came out two years later).  It opened small (one theatre!) and made a whopping $55 mill (the budget was around $770,000).  Critics and industry peeps also loved it, giving it five major Oscar nods (Picture, Director, Editing, Actress, Original Screenplay), a Golden Globe (Best Musical/Comedy) and a greenlight for a sequel (More American Graffiti!). It was the start of of the decade's wave of  oh-so-swell 1950s/1960s-set shows and films (Happy Days! the film adaptation of Grease) and the reason Lucas was able to start production on his next movie: some flick about wars set in the stars.
Why it's lasted: It's got two huge things going for it: it's universally relateable and fueled by a very well-loved brand of nostalgia. It was the first of many night-in-teenage-life dramedies, following a group of high school kids (Ron Howard, Richard Dreyfus, Paul Le Mat, Charles Martin Smith, Cindy Williams) and their new friends (Candy Clark and Mackenzie Phillips) as they make that euphoric, yet terrifying transition from the last day of school into the first night of  the summer before college. Although it's set in a specific era (1962), which many modern moviegoers were too young (or not alive) to remember, the themes -- friendship, lust, growing up -- are timeless. Everyone has been, is, or will be a teenager someday. And no matter how awful it was, we live for revisiting it on screen, especially when there's bitchin' vintage cars, poodle skirts and greasers involved.
Classic moment: Anything involving the gang's iconic meet-up spot, Mel's Drive-In (which, was sadly demolished after production wrapped but has been resurrected as a bargain burger joint at Universal Studios theme parks) comes to mind.  You may have also heard about the part with Han Solo and a fetching cowboy hat. Or the part where Dreyfuss gets the eye from a barely-seen  Suzanne Somers - and then attempts to stalk her around town.  This isn't a one-moment movie, though. It's a collection of stories, and all of them are as delicious as a burger, fries and strawberry milk shake.

Does it still hold up? Like an all-out tulle-lined skirt. Or one of of those torturous-looking, pre-Madonna cone bras that girls wore back then. AFI has since dubbed it 43rd best comedy and 62nd best movie of all-time. And studios are still making movies with near-identical plots/themes (Dazed and Confused and Can't Hardly Wait, for prime example). It wasn't too kitschy or demographic-specific and it never will be. Think of it as Coca-Cola of teen movies. And not just the standard, vending machine style. I'm talking the kind that comes in an old school, gotta-save-this glass bottle.