Maybe you've never heard of it. Maybe you've always wanted to see it. Or maybe you're just tired of the new. Whatever your reason, the classics are always worth a nod. In Stay Classy, we look some of the films that started it all and how they hold up today. So sit back while we reel through the past.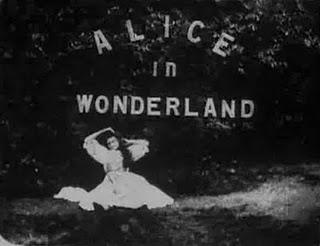 ALICE IN WONDERLAND
Year released: 1903
How it fared back then: The film was originally 12 minutes long. At a time when cinema itself was still very young, a night out at the movies meant viewing a collection of shorts, and a 12-minute film was considered too long. (HA!) So scenes from the film were instead sold separately and thus aired separately.
The making of the film was actually much like you'd imagine the production of a very, very small indie film, so small that the lead actress, Mabel Clark, also doubled as the studio secretary. The film also starred director Cecil Hepworth himself, his wife, his cat and his dog (who would later move onto bigger and better things, i.e. 1905's Rescued by Rover). Based on Lewis Carroll's Alice's Adventures in Wonderland, Hepworth tried to keep the film as tried to keep as much as possible to the likeness of John Tenniel's original illustrations and ended up spending a much longer time than usual pre-production preparing costumes and sets (which was probably a lot of work considering the main set was a small wooden stage). Though I can't say as much attention was paid to the actual story (but maybe more than later adaptations did).
Why it's lasted: It was the first adaptation of the popular children's book, released 38 years after the book. The book itself is a classic in children's literature, which has also developed a devoted cult following of adaptations, the first of which was this version. The film was also noted for its state-of-the-art special effects (see: when Alice shrinks and, in a later scene, disappears). Almost lost forever, film archivists at the BFI National Archive were able to restore 8 minutes of the film and its original colours for the first time in 100 years. So, technically, it hasn't "lasted" but was deemed historically significant enough to be restored and revered.
Classic moment: When Alice shrinks. Then grows. Then shrinks. As I mentioned, it was also very advanced for its time in terms of effects. On a more literary note, it plays a big role in the story's theme as a symbolic entry into a world where nothing really makes sense.
Does it still hold up? For those aforementioned followers of Alice adaptations, this film is a rare gem. For anyone who doesn't fit that description, probably not. Considering the original intended audience of Alice was children, this is definitely not one for them. It's actually kind of creepy. And doesn't stick to the story very well. Though since the film was originally sold by scenes, maybe no one ever cared for the story anyway. But if you're looking for something for the kids, I'd go for Disney. If you're looking for something for yourself, I'd say try Burton's. Both are really good. But if you love the adaptations like I do, go for this one.