At 10 o'clock this morning, the State Department sent out a tweet, warning of a "potential imminent threat" against U.S. citizens and all tourists in Saudi Arabia, especially in Jeddah, and urges Americans to limit all non-essential travel within the country.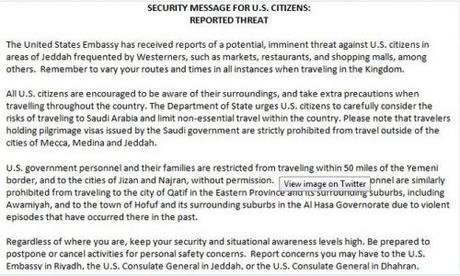 The Saudi travel warning came roughly five hours after a similar announcement from the State Department warning Americans in Turkey to move with caution.
ZeroHedge points out that although official warnings of upcoming threats to US citizens around the globe are generally ignored, this time it is prudent to pay attention because of what recently happened in Turkey:
In April 2016, the State Department had quietly warned U.S. citizens of "credible threats" in tourist areas in Turkey, particularly in Istanbul and the southern resort city of Antalya.
On June 28, 2016, three terrorists undertook a gun and suicide bombing

attack on Istanbul's Ataturk airport

, killing 41 and injuring more than 230 people.
On July 15, 2016, the Turkish military attempted a coup d'êtat, but failed. There are suspicions that the coup was a false flag staged by President

Recep Tayyip Erdogan

to amass more power.
In the case of Saudi Arabia, its stability was recently rattled two weeks ago when a suicide bomber blew himself up in front of the US consulate in Jeddah, which makes ominous the State Department's warning.
Keep in mind that the Saudi government had warned of dire consequences — that it would dump its holding of U.S. treasuries — if the classified 28 pages of the Congressional 9/11 report were to be made public. On July 15, the House Intelligence Committee released the 28 pages, which confirmed the rumors of Saudi involvement.
Since Saudi Arabia, unlike Turkey, is an oil producer, any instability in Saudi Arabia will affect oil prices.
~Eowyn