TAKEAWAY: We need your help: please fill out our survey about GarciaMedia.com to be eligible to win a forty-five minute Skype consultation with me. PLUS: A reflection on nearing 900 blog posts.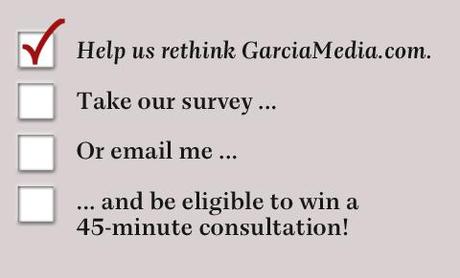 Our GarciaMedia.com survey: Enter here.
I can't believe that TheMarioBlog will post its 900th entry in about twenty days. And to think that I was one of the last blog holdouts. In fact, I thought I was the last among my peers to start writing a blog. But my friend Ron Reason convinced me to do it during a two-hour session waiting to board a flight out of the Lagos International Airport. That was over three years ago, and now the blog has become a part of my daily routine—and I hope yours as well.
We at García Media are now in the process of rethinking our entire website, and I want to hear from you. What do you like about our current site, and what do you wish we would change? How do you visit us? And, while I know some of you, I want to learn more about those of you I do not.
To that end, we have prepared a short eight-question survey, which is available here. I would be grateful if you would consider filling it out. Or, if you'd prefer, send me an email at with your thoughts about the website.
In addition, one lucky person who fills out the survey or emails me about the website by 11:59 p.m. EST on October 31, 2011, will be randomly selected and receive a free forty-five minute consultation over Skype with me. We can discuss your publication or your personal portfolio—whatever you'd like.
Thank you all in advance for helping us to rethink GarciaMedia.com.
TheMarioBlog post #875