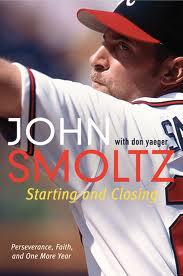 I recently read the new autobiography by John Smoltz, called "Starting and Closing: Perseverance, Faith and One More Year." It's an interesting tome of the future Hall of Fame pitcher, and it is centered on his comeback from shoulder surgery in 2009, which would be his final season in the majors.
Smoltz endured a lot to make his career a reality, from ingrown thumbnail surgery to Tommy John surgery. He was originally drafted by the Detroit Tigers, the team he grew up rooting for in his native Michigan. He was rattled by the trade to the perennial last-place Braves in 1987, but it put his career on the fast-track, and he made his debut in the bigs in July of 1988.
He talks about the influence of Bobby Cox, the legendary Braves manager, had on his career, and how close he was with his Braves teammates, namely Greg Maddux and Tom Glavine. (He tells some funny stories about their times on the golf course, and especially Maddux' fear of snakes.) I found his take on Braves GM John Schuerholz fascinating, especially when he talked about moving to the bullpen as a closer in 2001 and his contract negotiations. Sounds like he and the GM weren't exactly buddies.
Smoltz briefly talks about "The Steroid Era", but says he never witnessed anyone taking drugs in his presence.The most painful part of his career (outside the injuries) was the 1996 World Series loss to the Yankees, and how things would have been very different for the Braves had they won that series, and won just one in their 14-year dominance of their division.
Smoltz also talks about his life as a Christian, and how when he accepted Jesus Christ in 1995 it was the defining moment of his life.
But I found his take on making his comeback with the Red Sox in 2009 the most fascinating part. As a Sox fan, I wanted to get his take on his brief but unsuccessful stint with the Red Sox. (BTW, he calls blaming "chicken and beer" for the Red Sox 2011 collapse to be total nonsense.) He devotes two chapters in the book to it, and while he doesn't regret the experience, there are things he wishes he could have done differently, and it alos sounds like he and the Red Sox management had different ways of how he should have rehabbed after he first signed with the club. He is complimentary of the team, the fans and the tradition, but is seems like Smoltz was a bit overwhelmed making his comeback in Boston. He joined the Cardinals later in 2009, and that was a much better fit for him.
I found "Starting and Closing" an interesting read from one of MLB's best pitchers from the 1990s and 2000s.