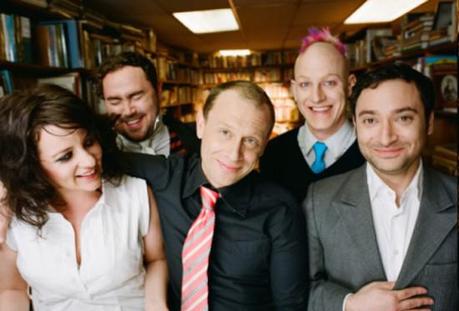 Known and loved for their unabashed, emotional indie pop, Montreal's Stars (@montrealstars) are making moves and lending their talents to the big screen. "Dead Hearts", a track off of their 2010 album The Five Ghosts, will be featured on the soundtrack for Sundance's award winning motion picture, Like Crazy.  The film traces the vacillating emotions and turbulent lifestyle of romantic relationships, a theme appropriately conveyed in Stars' notoriously heart wrenching lyrics.  The soundtrack is due out October 25th, so get your hands on it as soon as you can.
The band has also channeled their artistic talents into a poignant music video for the song, "Dead Hearts".  After joining forces and collaborating with Canadian street artist Roadsworth, Stars has put out a striking visual display that contains images of hearts embedded in a variety of settings, ranging from dark cemetery tombstones to graffiti laden walls in urban environments.
Stars is now turning to their fans and asking them to create their own version of  "Dead Hearts".  Using the iPhone app Instagram, people can submit personal photos tagged as #deadhearts for an opportunity to have their work featured in a companion video.  More details can be found on the band's Facebook page.  Check out the Stars's official music video to draw inspiration for the creation of your own masterpiece!