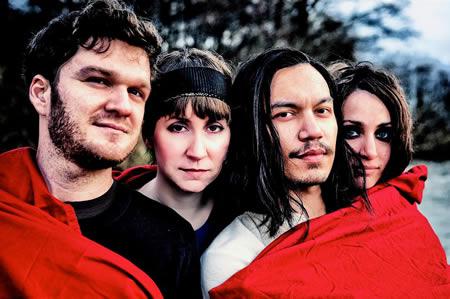 photo: Sarah Lovrie
Technicolor retro pop made in Brooklyn. The Starlight Girls is a female-fronted rock quartet singing sunny tunes with dark lyrics. There are a bit slower than Katzenjammer and less dirty than Shilpa Ray & Her Happy Hookers, the female half of the band takes care of the innocent sounding vocals on top of borderline cheesy keyboards and melancholic flutes and woodwinds.
Their self-titled debut EP is custom-made for the first glorious day of Spring. The sun is shining, but there are some clouds and soon it will start raining - all the things you need to make rainbows happen.

The Starlight Girls EP is a self-released album. Buy it from the band's website. Release date: April 1.
Tracks:
Wasteland
Gossip
Flutterby
Wallflower
The Hunch
Video: Starlight Girls - Flutterby
Live dates:
04/07 The Bell House, Brooklyn, NY
04/14 Cake Shop, New York, NY
05/26 Cameo Gallery, Brooklyn, NY