I know it's Wednesday and I should be plying you with
hump day studs
such as this amazing pair of Ryan Gosling stud earrings (available at
FredFlare.com
for $16 USD), but Starbucks? Starbucks.
Starbucks.
Starbucks is doing some crazy-ass shit that I just cannot not tell you about.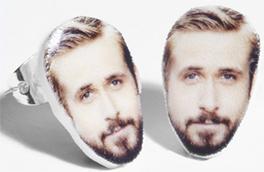 These deserve their own post
but they're not getting one so blame Starbucks.
Okay, apparently some people get a
huge erection for the pumpkin spice latte
. Why this is, I don't know. It's not like it's the salted carmel mocha or anything. But whatevs. If you want to sip gourd-flavoured coffee and get wet-your-pants excited over it, go nuts.
But
there is NO NEED
to drink it out of this
offensively ugly $150 USD tumbler
.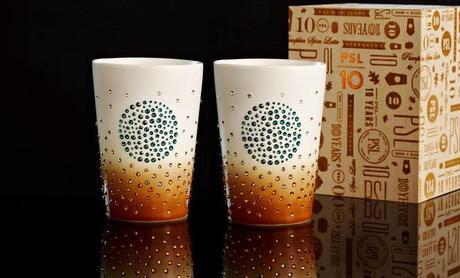 My eyesssss!
From the
Starbucks website
:
"Limited Edition Swarovski® PSL 10th Anniversary Mug, 12 fl oz 
Celebrate 10 years of a beloved coffee beverage—our Pumpkin Spice Latte—with this dazzling, limited edition double-wall Starbucks® mug made with Swarovski® crystals. Offered exclusively online, the 12-fl oz ceramic mug is dressed in autumn colors and adorned with the finest Swarovski® crystal elements. With only 600 made, this special coffee mug is perfect for Starbucks and Swarovski® collectors and comes in a beautifully designed, numbered, wood box commemorating the 10th Anniversary. Hand wash only. Do not microwave."
K, I won't microwave it. I'll
jam it down the InSinkErator
. Yeah, that's right. I have an in-sink garbage disposal unit. Yes, actually,
I do live in the '80s
. You should visit. There's no fucking "PSL" Swarovski bullshit
here.
It's magnificent.