Scott Feschuk
is a Canadork renaissance man and my favorite kind of humorist: a versatile one.
Feschuk has written for
This Hour Has 22 Minutes
and, presumably with a straight face, worked as the chief
speechwriter for then Prime Minister Paul Martin
.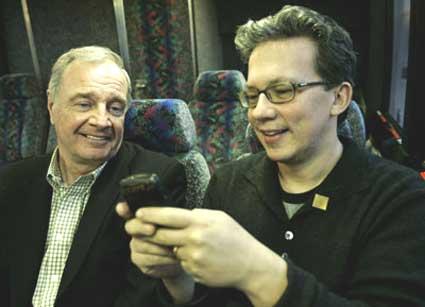 Weird. Are they smiling on a Greyhound bus?
That's like Obama hiring a
Daily Show
writer to put words into his mouth. Delicious! Friends, hosers, countrymen, lend me your ears:
This is the greatest country in the world
.
Feschuk is one of two reasons I subscribe to
Macleans Magazine
, where he writes the
weekly humor column
(the other reason is the
book reviews
, yo).
Here is one of Feschuk's recent columns which you'll extra love because it is about beer:
You're welcome: Scott Feschuk reviews summer beers
From Bud Light Lime Straw-ber-rita to Sleeman Lift, our selfless columnist tries the season's 'hot' beers and tastes the adventure.
Summer is finally here, which is great, because it's definitely one of my four favorite seasons for drinking beer. But which brew to choose?
In accordance with my sworn duty to serve readers—which dates back all the way to last Wednesday, when I was brainstorming ways to trick Maclean's into picking up my booze tab—I selflessly taste-tested an armload of bottles and cans that were described by Beer Store employees as "hot right now." Let the column of three separate hangovers begin!
READ MORE >>