Are you a Starbucks fan?
We are. Strangely, my boy and I drink lots of Starbucks Frappe (decaffeinated ones) only we were in America as Starbucks seems to be everywhere in US.
Why am I baking these Starbucks-like Cream Cheese Pumpkin Muffins? Well, I was trying to make a point here. The story begins from my previous bake when I baked the Bobby Flay's Very Moist Cranberry Pumpkin Muffins...
Mum: Do you like cranberry muffins in your lunch today?
Boy: They are delicious!!!
Mum: Hahahahahahahaha!!!
Hearing this, I was laughing because I know that my boy hate pumpkin and didn't know that there is pumpkin in these cranberry muffins.
Boy: Mum, tell me what is so funny?
Mum, with a big grin: These muffins have pumpkin in them and you like them!!!
At that point, I regretted telling my boy the truth as his sulking face makes me feel kind of wary. My six sense told me to check the school bins on the next day. True enough, I found that my boy had thrown away the cranberry pumpkin muffins!!! After being caught red handed, my boy was heavily reprimanded and he apologized. He admitted that he couldn't taste any "yucky" pumpkin in the cranberry pumpkin muffins but chose to toss the pumpkin muffins away all because of his pumpkin-hating thoughts.
Here, I'm trying to convince my boy that muffins made with pumpkins can be moist and delicious and so we have browsed the internet together to find a good pumpkin recipe. Among all, we were attracted to this highly rated Starbuck-like Cream Cheese Pumpkin Muffin recipe from Food.com because of our good faith with Starbucks Frappe.... LOL! I hope that my boy will like these muffins...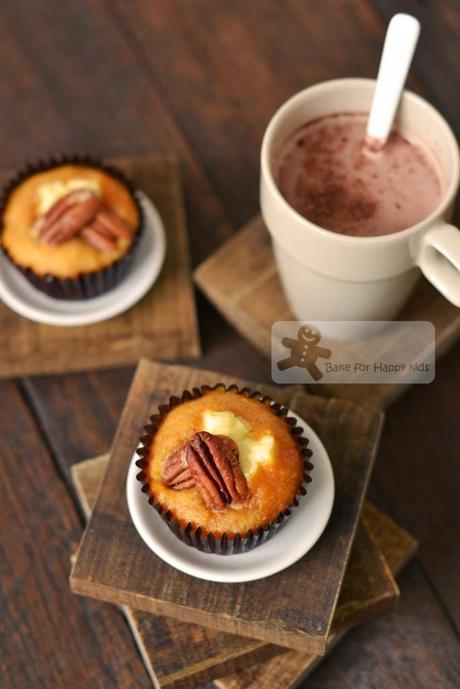 Starbucks-Like Cream Cheese Pumpkin Muffins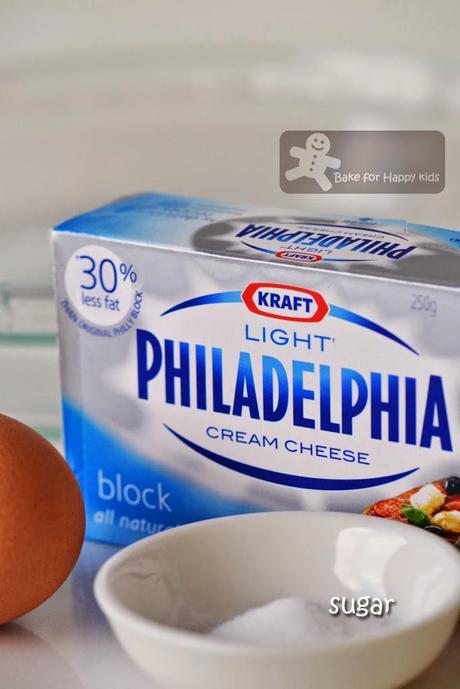 To start, mix all these ingredients.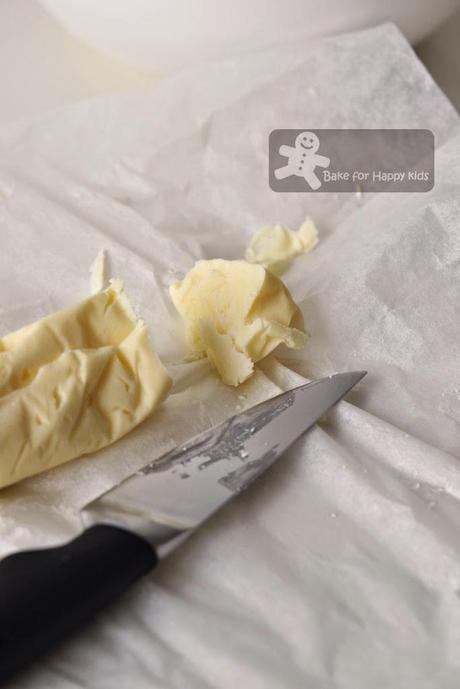 Wrap cream cheese mixture in a sheet of baking paper and freeze so that it can be sliced into pieces.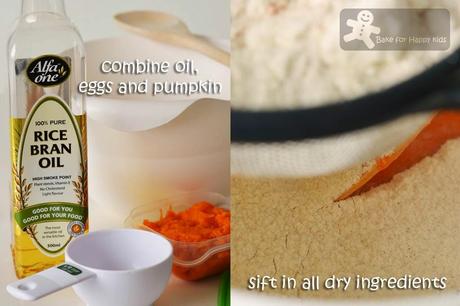 Mix the muffin batter.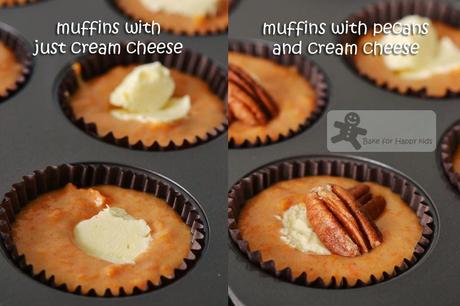 Assemble the ingredients in the muffin pan...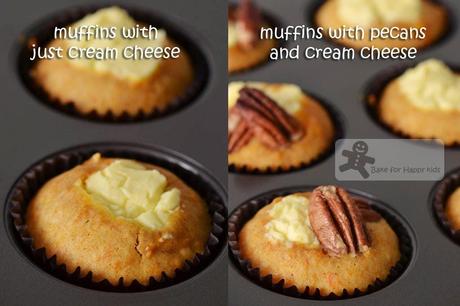 ... and bake!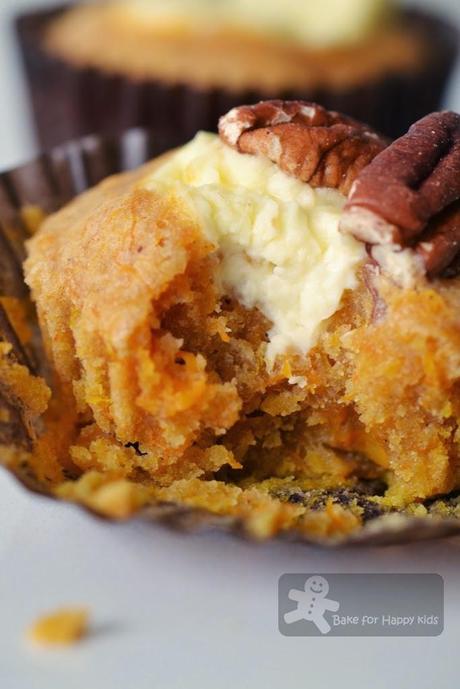 Very moist and tasty!
Are you curious to know the end of my story?
Mum: Do you like the muffin in your lunch today?

Boy, with a nod: Yes. It is very nice.

Mum, looking surprised: Do you know that there is pumpkin in it?

Boy, looking surprised too: I don't know and I don't mind the pumpkin...

Mum, with a stern face: Now, tell me honestly... Did you throw away the muffin???

Boy, with weary eyes: No, I didn't. I wouldn't dare. You have to trust me! This muffin is very nice.
Is this a good ending? I hope so ...
Here's the recipe that I have mostly adapted from Food.com to bake only 6 muffins to test my boy's acceptance of these pumpkin muffins.
The recipe says "These delicious muffins are very close to the kind you can get at Starbucks. If you want to cut back on the fat, substitute some or all of the oil with natural unsweetened applesauce."
After reading this phrase... My boy said "Mum, please bake these with full amount of fat. Please!"
What can I say? ... ok? With another wary face.
Makes 6 standard size 1/3 cup muffins
110g all-purpose flour
1/2 tsp ground cinnamon*
1/4 tsp ground nutmeg
1/8 tsp ground cardamom
1/4 tsp salt
1/3 tsp baking powder
1 large egg (80g each), roughly beaten
75g plus 7g caster sugar
(I have reduced the amount of added sugar in this recipe and this sweetness is just right for us)
1/2 cup pumpkin, preferably butternut pumpkin for a nice nutty bit, steamed and mashed
75 ml vegetable oil, preferably rice bran oil
60g cream cheese, preferably the 30% fat reduced with 22% fat... Shhhhh! Don't tell my son!
pecan halves or any roughly chopped nuts to top, optional
* We didn't have pumpkin pie spice and so I have added more ground cinnamon.
In a bowl, combine cream cheese with 2 tsp of the beaten egg and 7g of sugar. Place mixture on a piece of baking paper and wrap it into a log shape. Place it in the freezer for 1 hr or until firm.
Preheat the oven to 350°F or 160°C fan forced.
In a large mixing bowl, combine all the dry ingredients and spices together. In another large mixing bowl, mix egg, pumpkin and oil together. Then, sift the dry ingredients into the pumpkin mixture. Mix gently until the muffin batter is all well combined. Do not over-mix. Line a muffin pan with paper cups and fill each with muffin batter until it is about half full.Unwrap the cream cheese mixture. Using a sharp knife, cut cream cheese into portions of 1-2 teaspoons. Place each portion of cream cheese in the middle of the muffin batter and press it down.
Top the muffin with nuts and bake for 25 mins, until a skewer inserted the non-cream cheese area comes out clean.
Let cool in pans for 5 mins, then remove to racks to cool completely. Serve when they are slightly warm or completely cooled but I like the muffins the best when it the cream cheese is still soft and runny.
Happy Baking
This post is linked to the event, Little Thumbs up organised by Doreen from my little favorite DIY and me, Bake for Happy Kids, hosted by Eileen from Eileen's Diary at this post.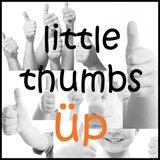 For October 2014, Eileen has requested her Little Thumbs Up event with 
PUMPKIN
 theme to starts on 1st October and will end on the last day of the month. Please join us! To join, simply cook or bake any recipe with 
PUMPKIN
 for October 2014 and link with us 
at 
this post 
anytime until 31st October 2014.
Don't forget your thumbs up or display this badge! And make sure that: (1) Your post must be a current post preferably within this month. (2) Please mention Little Thumbs Up in your post and link back to Bake for Happy Kids, my little favorite DIY or/and 
Eileen from 
Eileen's Diary. 
For more details, please see this.
What after October 2014? Little Thumbs Up is having a break in November and December 2014. We will be back with Anne from 
My Bare Cupboard
 being the next hostess of 
January 2015 
and her theme is 
NOODLES and PASTA
! starting on the first Tuesday of January 2015.
This post is also linked to the event, My Treasure Recipes #3 - Taste of Autumn (Oct / Nov 2014) organised by Miss B from Everybody eats well in Flanders and Charmaine from Mimi Bakery House.
----
What next? I will be away for a holiday in Singapore and Tokyo and will be back on 1st November 2014. Ciao! And see you in 2 weeks time...
For the whole month of November 2014, Yen from Eat your heart out and Grace from Life can be simple and I (Zoe) from Bake for Happy Kids are cooking and baking lots of Bobby Flay's recipes
Sadly, this will be our LAST Cook like a Star event and hope that you won't miss it and enjoy cooking or baking with us.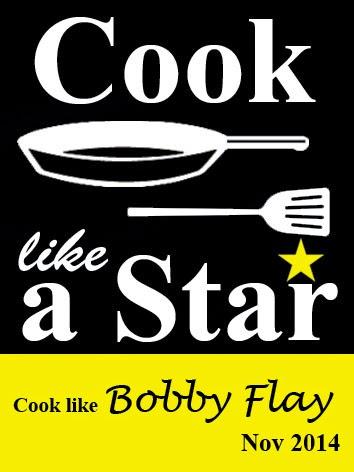 For the whole month of December 2014
, Yen from
Eat your heart out
, Diana from
Domestic Goddess Wannabe
and me from
Bake for Happy Kids
are cooking and baking a family feast to celebrate Christmas 2014. Join us and link your post with us if you are also cooking something special for your Christmas celebration.