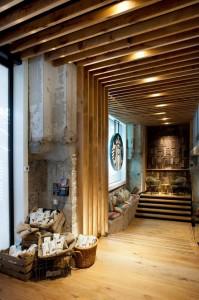 The Starbucks Bank is now open in Amsterdam. The coffee concept store is housed in a former Amsterdamsche Bank in Rembrandtplein, and will specialise in "slow-brew" and gauge the Dutch market for the trends the mega-successful chain will implement in the rest of Europe.
"With its Slow Coffee Theatre, hyper-local design, floating community gathering spaces and  on-site bakery, Starbucks The Bank is a glimpse into Starbuck's vision of the future," said Starbucks in a statement.
Decorated with bicycle tires, original Delft tiles and speculaas shapes, The Bank's style is meant to reflect Dutch history, and its drink creations Holland's coffee traditions. Indeed, the walls tell the history of Dutch coffee traders and includes world maps showing the old Dutch East India Company trade routes.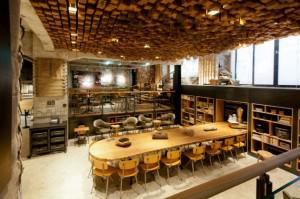 "The bank is a significant aesthetic departure, kitted with witty local design touches. Among other things, it features a floor-to-ceiling 'tattooed' mural celebrating the history of Dutch coffee traders," said Starbucks.
The unique design matches the unique concept of the store, dubbed a "laboratory" for new coffee creations and a slow-food movement, according to the chain. The Bank features a 17 meter long coffee bar, the longest in Europe. It also boasts a stage for performing arts and an open lay-out the chain hopes will encourage customer interaction and the exchange of ideas.
The store will serve as a design base for Starbucks' future expansion throughout Europe. Starbucks currently has a similar concept shop in Japan.