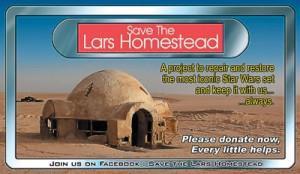 This blog is now the ultimate power in the universe!
This fundraiser is a fun one! To be honest with you I needed a little break with all the intense news over the weekend about Japan.
Years ago when George Lucas was in Tunisia filming Star Wars they built the exterior of Luke Skywalkers house. It's called The Lars Homestead after Luke's uncle Owen Lars and its located in Nefta in the west of Tunisia near the Algerian border. It's been years since the filming of that movie plus the prequels and the dome is starting to fall apart.
Mark Dermul is the Star Wars Archaeologist looking for $10,000 to preserve several locations from Star Wars and has Lucasfilms blessing to do it. You can check out Mark's page here.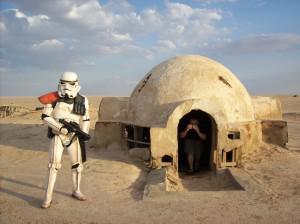 Mark also offers tours of the area where you can see filming locations of Star Wars, Gladiator, The English Patient and Raiders of the Lost Ark (Wow, when can I go!)
If this sounds cool to you and you want to help out, Mark will accept donations anywhere from $2 to $250 so he's flexible.
If anybody comes up with a Raiders of the Lost Ark fundraiser please let me know (if anyone wants to buy me Indy's hat from adventurebuilt  I'll send you my headsize!)
Twitter @justfundraising
Our Facebook page